Lawrence O'Donnell Calls Crickett Guns-For-Kids Site 'Legal Child Pornography'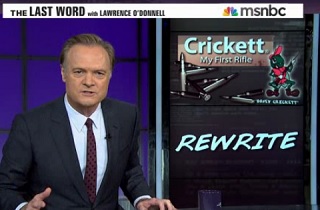 The accidental killing of two year-old Caroline Sparks, by her five year-old brother and his Crickett rifle, has turned a white-hot spotlight on the marketing of guns to children, particularly on kiddie gun manufacturer Keystone Sporting Arms. On Thursday night's The Last Word, host Lawrence O'Donnell devoted his "Rewrite" segment to the company, blasting its founders as greedy death-merchants, and characterizing a photo from the company's website, of an apparent infant holding a rifle, as "legal child pornography."
O'Donnell related a story about his own father turning down an opportunity to invest in a liquor store because "he had seen booze destroy too many lives, and kill too many people," and related that story to Keystone Sporting Arms founders Bill McNeal and Steve McNeal.
"I'm guessing they never talked about what they would not do to make money," O'Donnell said, "because what they decided to do, as a father and son team in a small town in Pennsylvania, was start a company to make guns and sell guns for children."
"You would think one of the McNeals would have had the good sense to say, 'If we make guns for little kids, someone is going to get killed,'" O'Donnell added. "Well, if one of them said that, the other one must have said 'Yeah, but we can get rich,' and getting rich mattered more to the McNeals than someone getting killed."
O'Donnell went on to say that the company's founders "hit their marketing target" when Caroline Sparks' family purchased the Crickett rifle that would bring about her death. He didn't name the victim, or the family, "in deference to the family's loss and their grief,"adding that "Yes, the parents made the choice to buy that gun," but "I'm going to leave the discussion of the parents' responsibility in this case to others."
It's that unspoken issue, though, that allowed the McNeals to go into the guns-for-kids business with something approaching a clear conscience, and which allows the gun culture to ignore tragedies like this, and the tens of thousands of gun deaths every year. The guns are never the problem, it is always the humans who own them, possessed of a fallibility that every other gun owner tells themselves they could never fall victim to. Until they do.
"The names I want you to know," O'Donnell continued, are the merchants of death, the merchants of this death, the guys who made and sold the rifle that killed this 2-year-old girl."
He also pointed out that Keystone manufactures its guns for kids "20 miles away from where the Little League World Series is played, and they market their guns to kids who aren't old enough to play Little League baseball," adding that they market the guns to kids even younger than the boy who shot his sister.
"They have pictures of younger kids than that on their website, toting crickets and chipmunks," O'Donnel said. "They have a picture on their website that is pure child abuse. I can't show it to you. It shows a toddler who is 2 years old, at most, maybe younger, holding a rifle. On his lap. Over his arms like that, because the toddler obviously isn't strong enough to lift it up. That picture is legal child pornography."
The Crickett website has been down since last night, at least, but the archived version of the site bears O'Donnell out. The child in the picture he's referring to is more a baby than a toddler.
"You live in the country where 5-year-olds are not allowed to play Little League baseball, because we are afraid of them getting hit by fastballs, thrown by 10-year-olds," O'Donnell said. "Because we think fast-pitch baseball is too dangerous for 5-year-olds, Little League allows them to play only tee ball. You know, for safety. You live in the country where Bill and Steve McNeal legally sell guns for 5-year-olds, without even worrying about safety. If you're concerned with child safety, you don't give children guns. You don't give 5-year-olds the keys to the car. There's a whole lot of stuff you don't let 5-year-olds do if you are concerned about child safety. But America's merchants of gun death are not concerned about child safety, or adult safety or anything other than getting rich, and so tonight, you live in a country where Bill McNeal and Steve McNeal make and sell guns for little kids. Because they can. And because obviously there is nothing, nothing Bill McNeal and Steve McNeal won't do for money."
Follow Tommy Christopher (@TommyXtopher) on Twitter.
Have a tip we should know? tips@mediaite.com