Lawrence O'Donnell Chides Bill Clinton And Lady Gaga For Inappropriate Birthday Flirting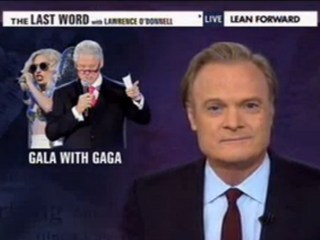 Over the weekend, former President Bill Clinton had a several-month late birthday bash in Hollywood, lasting two nights and capped off with a seductive performance by Lady Gaga, who performed a special version of "Bad Romance" and giddily called her performance a "Marilyn moment." Given that ostentatious displays of power and wealth are public enemy #1 on The Last Word, Lawrence O'Donnell's cringing reaction to the affair (no pun intended) should not have come as a surprise, but it was still fairly hard-hitting from one liberal to another.
RELATED: Lawrence O'Donnell's New Obsession: Newt Gingrich's Tiffany's Bill
Noting that a quiet birthday at home "wasn't good enough for the attention-starved former president," O'Donnell played some clips of Lady Gaga doing her thing, noting queasily that it was "impossible to keep up with her double entendres" and, finally, "it doesn't get weirder than that"– having Lady Gaga perform a version of "Bad Romance" to the one president "forced to testify under oath about romance gone bad." For O'Donnell, the sticking point was having Secretary of State Hillary Clinton sitting beside her husband while Lady Gaga made sexual advances (jokingly, of course) at her husband after some "very difficult conversations."
RELATED: If Lawrence O'Donnell Cares So Little About Donald Trump, Why Is He Still Talking About Him?
His guest, Jonathan Alter, seemed a bit confused as to why O'Donnell was taking so much offense at the performance, given that he considered Clinton and Jimmy Carter two of the presidents with the best reputations out of office. "Jimmy Carter does not party in Hollywood for two nights in a row!" O'Donnell retorted, later asking rhetorically, "how hard is it to steer clear of these echoes?"
For those who consider O'Donnell an unabashed liberal in every possible way, his occasional morality outbursts always seem to come as a surprise, though they more often than not fall under party lines. His indefatigable war on hedonism typically manifests itself in mockery of moneybags conservatives like Donald Trump or Newt Gingrich, against lobbyists and Wall Street and people who live a life publicly that belies their private behavior. That Clinton would have the audacity to put on such a display of wealth and power and flaunt how he evaded ignominy (much, some argue, at the expense of a young intern who can barely spend time in America anymore) in front of the family he almost destroyed would naturally trigger the conservative (in a left-wing way!) instincts of a commentators like O'Donnell, who has made modesty the paramount virtue in his political framework.
The segment via MSNBC below:

Have a tip we should know? tips@mediaite.com