Lawrence O'Donnell: Christie Barb A Sign Sarah Palin Feels Increasingly Irrelevant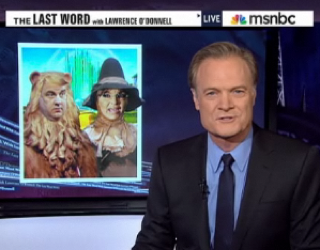 Sarah Palin took a rather unusual turn over the weekend by attacking beloved conservative Gov. Chris Christie, leaving the media to figure out what, exactly, she's up to. Is it a sign she's running for president? Is it a sign that he is? On The Last Word tonight, the Huffington Post's Howard Fineman told host Lawrence O'Donnell it's more likely a sign that Palin feels increasingly irrelevant.
Palin, or as O'Donnell calls her, the "most recently losing vice presidential candidate who will never be president," argued on Fox Business this weekend that Gov. Christie's budget cuts took no "courage," unlike the budget cuts she made in Alaska, because "he's broke" and would have to cut spending anyway. Meanwhile, a recent Quinnipiac poll shows Christie is "America's hottest politician" based on likability, with Palin coming in at 21 of 23 on the same list. "Did you ever imagine there would be a list of hottest politicians where Palin would be 21 of 23 and the ultra suave Christie would be on top?" Lawrence asked rhetorically.
Fineman argued that Palin had "outworn her welcome, which is why she is sort of lashing out at Chris Christie." Furthermore, the fact that no one believes she is running for president because she has no infrastructure in Iowa and has done nothing to indicate she will aside from attack Christie. So, if she's not running for president, Fineman posited, "I think she's jealous." O'Donnell agreed to a certain extent, adding that "the only way to get to her is to be exciting," something Christie certainly has been on the right. "He has a kind of reverse charisma that a lot of people find attractive," Fineman joked.
While they didn't quite solve the mystery, the duo did raise a question those too busy expecting Palin to announce a presidential run have yet to note– perhaps she's protecting her soapbox, not her candidacy.
The segment via MSNBC below:

Have a tip we should know? tips@mediaite.com