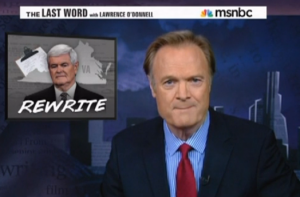 Thursday night, Lawrence O'Donnell brought up a Los Angeles primary ballot measure — a possible law that would require porn stars to wear condoms while filming in Los Angeles — and found a way to work in the GOP field of candidates, suggesting that the two groups were similar in not wanting to be burdened with any more regulations.
O'Donnell introduced the segment by using the brilliant segue of Newt GIngrich's inability to get the 10,000 signatures required to get on the Virginia primary ballot. He noted that the measure that would require actors in porn to wear condoms while filming in the city of Los Angeles had collected 70,000.
"There is no clearer measure of the depths that the Gingrich campaign has sunk to than the fact that there are more people who want to protect the health of porn stars than there are people in the entire state of Virginia who want the chance to vote for Newt Gingrich for President."
O'Donnell then said that — if the field has at least two candidates by the time the California primary comes around and there is a debate — the first question he wants to hear asked is, 'Are you in favor of porn stars being required to wear condoms?' O'Donnell considers it a trick question, saying that, to a GOP candidate, it's a choice between being anti-tax and pro-porn producer.
The measure would collect a fee from the porn productions and create a job of "porn set condom inspector," O'Donnell reported. He imagined that while Ron Paul would be vehemently opposed to this, the rest of the field might be torn. "Do they stand side by side with porn producers?" O'Donnell asked, then added:
"The only people who hate regulation even a little bit more than Republican presidential candidates are porn producers."
Enjoy the "Rewrite" clip below, courtesy of MSNBC:
Have a tip we should know? tips@mediaite.com