Lawrence O'Donnell: Perry's 'Ponzi Scheme' Comments Could Lose Him The Election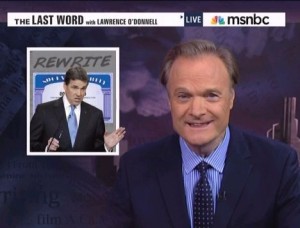 On his "Rewrite" segment, MSNBC host Lawrence O'Donnell took on presidential candidate Rick Perry's delicate balance between his past controversial statements on Social Security and his need to appear mainstream within the Republican party during the 2012 race.
Perry was, at first glance, more moderate in his approach at this week's Republican debate in explaining his position on the government program than in his book End the Fed!. But "the rookie debater," as O'Donnell called him, continued his answer, and ended up once again calling Social Security "a Ponzi scheme" and a "monstrous lie." The comment was so politically volatile, everyone from Karl Rove to former McCain campaign adviser Steve Schmidt weighed in to advise the Texas governor to relax the rhetoric.
During the debate, Mitt Romney was able to provide a stark contrast by arguing that saving Social Security should be the goal of any Republican president, not abolishing it. O'Donnell pointed out that Romney's line was the one that got applause from the Republican crowd, suggesting his position is more in the party mainstream than Perry's. And O'Donnell highlighted an NBC/WSJ poll in which 55 percent said they would be less likely to vote for a candidate in favor of privatizing Social Security.
O'Donnell tore into Perry for his statements.
It is impossible to win a presidential election in America while demonizing Social Security, while calling it, in effect, 'a fraudulent criminal enterprise,' which is what a Ponzi scheme is.
And so it was no surprise to O'Donnell that today, Perry walked back his comments, insisting that he just wants to "fix" the system. When asked if he thought of Social Security as a Ponzi scheme (remember, we have video of him actually saying it), Perry dismissed it as "misinformation." For the sake of perspective, O'Donnell gave a brief history lesson on Charles Ponzi and Social Security, and argued any comparison between the two was misguided.
Watch the video below, courtesy of MSNBC:
Have a tip we should know? tips@mediaite.com
Josh Feldman - Senior Editor