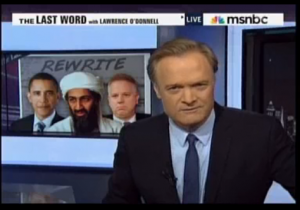 On tonight's "Rewrite" segment, MSNBC's Lawrence O'Donnell set his sights on Rush Limbaugh in addition to basically called out Fox News' Glenn Beck as a hypocrite over different remarks he's made this week regarding reaction to the capture of Osama bin Laden.
First, O'Donnell showed a clip of Limbaugh, on his radio show, opining that, had Obama "passed" on capturing bin Laden, his political career would have been ruined. O'Donnell noted that President George W. Bush had effectively "passed" on capturing bin Laden in Tora Bora a mere 9 days after 9/11 and, despite heavy criticism from John Kerry at the time, emerged from the incident unscathed. Oh, and if you think O'Donnell passed on the chance to call out both Bush and Limbaugh for not serving in Vietnam, then you obviously have not been watching the man's show.
Later, O'Donnell moved on to Beck, airing a portion of The Glenn Beck Program wherein Beck opined that Obama's plans to visit Ground Zero are "slimy," accusing the President of grabbing the opportunity to "sop up some more glory and take a victor lap. It's disgusting." He then showed a clip of Beck celebrating the terrorist's death with a marching band, cookies and confetti (but, alas, no delicious Funfetti cookies).
Why say that the killing of bin Laden was worthy of a marching band and delectable baked goods, asked O'Donnell, while simultaneously claiming that Obama's visit to the site of bin Laden's most notorious work of terrorism is inappropriate? And then, the kicker: "Disgusting," purred O'Donnell, " is way too nice a word for Glenn Beck."
Take a look at the segment, via MSNBC:
Have a tip we should know? tips@mediaite.com