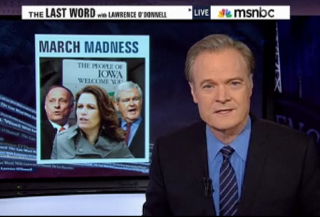 Lawrence O'Donnell is popping some popcorn to watch Republican presidential hopefuls sharpening their claws on their way to the 2012 primaries, and he is hoping they are at least as respectable as Alan Keyes. Blasting the Tea Party as "anti-information" and "the most forgiving movement in American political history," he proceeded to ridicule front-runners (?) Rep. Michele Bachmann, Gov. Haley Barbour, and the ubiquitous Newt Gingrich.
"The last time this man ran for president," he noted of Keyes, he was "dismissed as completely ridiculous." Keyes, of course, is a perennial candidate that, among other pursuits, ran against Barack Obama for the Illinois Senate seat the latter won in a landslide in 2004. "Alan Keyes is actually much better educated that Michele Bachmann," O'Donnell quipped, continuing to say that the point didn't matter, as "Bachmann can say Lexington and Concord are in whatever state she happens to be in at the time and the Tea Partiers will still clap."
He also went after other participants in Rep. Steve King's (not Rep. Peter King, as O'Donnell's panel later mistakenly claims) Conservative Principles Conference, with his most generous label, "tag-alongs," reserved for apparent candidates UN ambassador John Bolton and pizza magnate Herman Cain. Among those O'Donnell jeers are Barbour and Gingrich, those he saves a barb for a candidate from last time around: Mike Huckabee, "who will be safely ensconced in his Fox News studio in Manhattan… the booty prize Huckabee ended up winning after successfully pandering to right-wing voters."
O'Donnell's guests were far less generous, though in bringing up the more moderate Republican hopefuls like Tim Pawlenty and Mitt Romney, they appeared cordial to them by comparison. The Huffington Post's Alex Wagner described the Peter Steve King event as an 'A-list/B-list' situation in part due to who was hosting it, while The Nation Washington editor Chris Hayes added that "there's a very thin line between being a media celebrity and being an actual politician" on the right, one that Bachmann appears to intend to walk quite delicately.
The segment via MSNBC below:

Have a tip we should know? tips@mediaite.com