O'Donnell Dismisses Huckabee's 'Boy Scout' Talk As Culturally Detached 'Lying'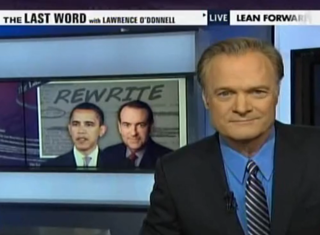 Mike Huckabee insists on digging himself deeper and deeper into the rhetorical mess he created when he claimed President Obama grew up in Kenya this week. Trying to shrug it off to Bill O'Reilly yesterday, Huckabee continued to insist that the President was out of touch because he didn't "join the Boy Scouts," among other things. Which made Lawrence O'Donnell think: how many Americans in 2011 can actually relate to the Boy Scouts?
O'Donnell, not one to resist the mouth-watering opportunity to take a swipe at Bill O'Reilly, took the chance in playing a clip from yesterday's Factor to call the host "gullible" and snark about his upbringing, but luckily didn't get too caught up in his own private feud to take his eye off the ball– the fact that Huckabee's repeated usage of phrases "Boy Scouts" and "Rotary meetings" may resonate with far fewer Americans than he is banking on them doing so. After picking on Huckabee's statement on his Kenya comments for failing to use the words "sorry" or "apology" ever, O'Donnell got to the heart of the matter– the fact that Huckabee, in an attempt to seem relatable to most Americans, was making hollow cultural references that may alienate him further.
For starters, O'Donnell noted, "Bill O'Reilly didn't grow up going to Boy Scout meetings and playing Little League baseball in a small town." While delivered in the tone of an attack, in O'Donnell's paradigm, this makes O'Reilly far more of an average American than Huckabee. "The vast majority of American men," he explained, "did not have anything to do with the Boy Scouts." To give the point its full meaning, he also noted that "100% of American women and girls have not been Boy Scouts. That's like saying most of us went to ballet class."
While O'Donnell doesn't quite say it, his point is well-taken, astute, and hits Huckabee where it hurts him most: perhaps, if Huckabee could "stop lying about the Boy Scouts," he would discover that maybe he isn't quite the average American he thinks he is. Furthermore, if O'Donnell's claims that Hawaii is "full of Rotary Clubs but I, for one, have never seen a madrassa," President Obama may outdo Huckabee in terms of sheer Americanism as defined by Huckabee himself. This could be interpreted as a symptom of the death of a long-lost culture Huckabee (and his possible campaign) are attempting to channel. Or, more likely– and certainly one would expect this to be O'Donnell's point– it is simply a testament to the increasing diversity of cultures, interests, opinions, and social dynamics in America that what were once cornerstones of the social sphere are now mostly trinkets of nostalgia, not legitimate sources of social authority that a conservative like Huckabee can successfully harness.
The segment via MSNBC below:

Have a tip we should know? tips@mediaite.com