Lawrence O'Donnell Explores The Sudden Blackout Of The BP Oil Well Live Feed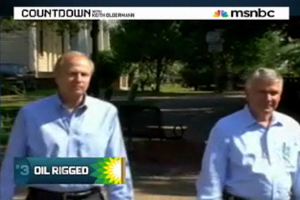 Yesterday, incoming BP CEO Bob Dudley announced that the company would initiating a pullback of the cleanup efforts, with "less boom, fewer hazmat suits, but no less commitment," according to MSNBC's Lawrence O'Donnell. This was deemed appropriate because, according to Dudley, no oil was flowing out of the oil well. Except there was no way to verify that, because the live feed of the seafloor had been shut off for three days.
On last night's Countdown, O'Donnell (filling in for Keith Olbermann) wondered why, exactly, the cameras would be turned off, suspecting something BP didn't want the press to see. Citing Daily Kos writers who had been on the scene, he asked former oil executive and Countdown regular Bob Cavnar for his perspective. Cavnar acknowledge that he had heard from reporters that "the leaks were getting worse, and when I watched the feeds, when they showed the wellhead," he continued, "you could see that some of the leaks around the cap, the connector between the two blowout preventers was actually getting worse. And then about three days ago, the feeds just went black." The feeds have since come back, and the (compared to the open well) small leaks are still visible.
Cavnar was also concerned about new "Static Kill" operation intended to plug the leak deeper than the wellhead can by filling it with mud. The operation would "put pressure on those very connections that are leaking right now," he explained, "and I just think its an unwise operation," given the leaks.
The segment from MSNBC's Countdown below:

Have a tip we should know? tips@mediaite.com