Lawrence O'Donnell Floats New Pick For Massachusetts Senate Seat Placeholder… Himself
Lawrence O'Donnell Floats New Pick For MA Senate Seat… Himself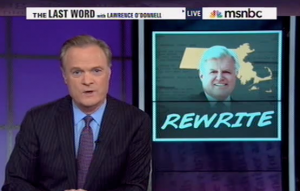 During Tuesday night's "Rewrite," Lawrence O'Donnell turned his attention to the Senate seat opening up in Massachusetts, following President Obama's nomination of Sen. John Kerry for Secretary of State in his second term. The vacancy will lead to a special election, but in the meantime, Gov. Deval Patrick gets to make an interim appointment. O'Donnell floated a possible name for that position: his own.
RELATED: Barney Frank To MSNBC: I Want To Temporarily Fill Massachusetts Senate Seat
O'Donnell began with a long-winded explanation, as his colleague Rachel Maddow has also done, about how the current system in Massachusetts came to be. Reiterating his belief that Ed Markey will win the special election, he then later noted that even Ben Affleck's name was floated at one point.
So why not, well, O'Donnell himself? "If Ben Affleck can be taken that seriously for the Massachusetts Senate seat, why can't I?"
"I cannot believe it has come to this," O'Donnell said. "That I have to float my own name to get in this mix for this Senate appointment. You know how embarrassing this is? I'm no Barney Frank. He had no problem floating his name for the seat."
But he said he's going to sleep on it. Since he does owe us all a decision on this, however, O'Donnell said he'll announce, on Wednesday night's show, either his decision to "beg" for the interim appointment, or his pick for whom should be appointed.
In the meantime, you can help him with his decision via social media. Because of course.
Video below, via MSNBC:

Have a tip we should know? tips@mediaite.com