Lawrence O'Donnell: GOP The Town Screening 'Exhorts Every Republican To Go Commit Violent Sin'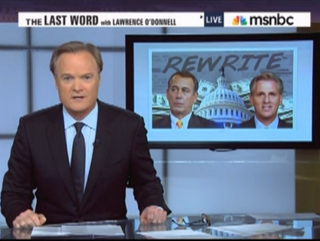 House Majority Whip Rep. Kevin McCarthy hosted a private screening of a clip of the Ben Affleck film The Town to get Republicans riled up for the debt vote this week– a wacky move, certainly, and one riddled with questions given its violent nature. Tonight, Lawrence O'Donnell donned his best native Bostonian accent to explain why the anti-Christian message of "go commit violent sin" was probably not a good idea– so bad, in fact, that Affleck himself had to speak out and recommend a different film.
O'Donnell left no doubt that he questioned Rep. McCarthy's, "the most misguided House Majority Whip in history," competence, though didn't blame him for knowing "inspirational speaking is not his strong point." What he did blame him for, however, was the anti-Christian message of the clip, which showed Affleck and his crew, "some distinctly unchristian Boston career criminals," preparing to, as O'Donnell put it, "beat the living shit out of a guy."
Calling McCarthy as "religiously illiterate as he is economically illiterate," O'Donnell marveled at the fact that he played the video "exhorting every Republican in the House to go commit violent sin." And some of those, he noted, are taking notice, though the example he used didn't corroborate the persuasive power of the film by his own admission. "Florida Congressman Allen West, who seems frequently unhinged in general," he joked, "reportedly said 'I'm ready to drive the car'"– a continuation of the metaphor that the Republicans were the criminals in The Town, about to go violently assault someone.
It wasn't that the Republicans were intending such violent, O'Donnell concluded, but that they were "trying to do too many things at once." To help them on their way, he used a clip from The Company Men, the film a quizzical Ben Affleck suggested in its stead, where the tension of unemployment loomed vividly over the characters.
The segment via MSNBC below:

Have a tip we should know? tips@mediaite.com