Lawrence O'Donnell Guest: Zimmerman Lawyers 'Hungry For The Limelight,' Throwing Client 'Under The Bus'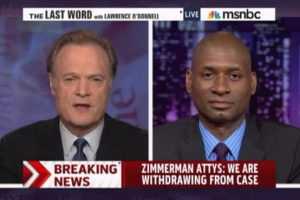 On Tuesday night, MSNBC's Lawrence O'Donnell discussed, with a panel, George Zimmerman's lawyers dropping him. The reaction to the presser and the lawyers' statements was unanimously incredulous, with the New York Times' Charles Blow saying the lawyers seem "a little bit hungry for the limelight." They're throwing Zimmerman under the bus, he said. "Fame is a monster," and they've been bitten by it.
RELATED: George Zimmerman's Lawyers Withdraw As His Counsel After Losing Contact With Him
O'Donnell commented on the "unprecedently strange 45-minute press conference," saying that it seems like the lawyers are worried about their own licenses to practice law. The purpose of the presser, he speculated, may have been to distance themselves, making clear that had nothing to do with Zimmerman's unknown whereabouts.
Blow said, "We have no assurances that anyone knows where George Zimmerman is" — and that he hopes the state's attorney will, in the next 72 hours, tell us how we can be assured someone is keeping track on him.
Turning to an ethical standpoint, Natalie Jackson, an attorney for Trayvon Martin's family, said special prosecutor Angela Corey did the "ethical and proper thing" by not speaking to Zimmerman, because Corey must have thought Zimmerman had legal counsel and thus she couldn't speak to him without representation.
RELATED: Mark Geragos Blasts Zimmerman Lawyers' Presser On CNN: I Thought I Was Watching SNL Skit
O'Donnell went on to remark that we're now discovering Zimmerman's lawyers "really had no idea what they were doing all along." Blow asked, "What are we to believe?" He continued: "I have never fully believed anything that was coming from these attorneys."
Blow then observed that the lawyers seem "a little bit hungry for the limelight." He added: "Fame is a monster, and they have been bitten by that. They want to be part of this big case. And they are kind of throwing George under the bus in order to get him to come back to them." It's an odd situation, he said, and the lawyers simply aren't credible: "Something does not add up."
If Zimmerman has been watching his lawyers' appearances on television, O'Donnell said, he has good reason to fire them.
Take a look, via MSNBC:

Have a tip we should know? [email protected]