Lawrence O'Donnell: Herman Cain's 'Worst Sin' Is Saying Black Democrats Are 'Brainwashed'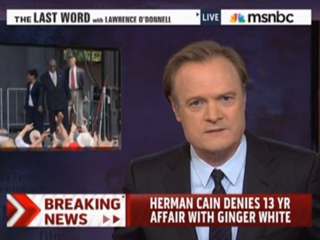 Judging from today's headlines, Herman Cain has some serious explaining to do to his wife, Gloria, as yet another women has come out publicly alleging an affair with the Republican presidential candidate. It was the top story on tonight's Last Word, and Lawrence O'Donnell noted that there was much Cain had to apologize to his wife for. But the affairs were low on the totem poll for O'Donnell, who recalled a comment by Cain that black voters who registered Democrat were "brainwashed" into doing so. It turns out Gloria Cain is a Democrat, and likely voted for Obama in 2008.
RELATED: Ginger White Claims To Have Engaged In A 13 Year Long Affair With Herman Cain
O'Donnell went through the entire story– how Ginger White alleged a 13-year affair, how Cain had denied it but his attorney had released "the political equivalent of an admission"– "it is so true that the politician can't even talk about it." He noted that "most Republican voters will remember the charges of sexual harassment or perhaps this 13-year affair as Herman Cain's worst sin as a candidate," but to him it was not.
And he played the clip of Cain saying black Democrats were brainwashed, arguing that "the sad truth about politics is that most Republican Cain supporters were probably more delighted by that statement than anything Cain had to say about his ridiculous 999 tax plan." But in running for President, something O'Donnell called a "book-selling, income enhancing stunt" that had doing much harm to his wife. But that comment was not only hurtful to most black voters– who are indeed registered Democrat– but to his wife, who did the same. "Gloria Cain was very probably an Obama voter in 2008," he noted.
"Every husband has something to apologize for to his wife, and every wife has something to apologize for to her husband," O'Donnell concluded, "but saying that she was brainwashed into voting Democratic would be a good place for Herman Cain to begin his apologies."
The segment via MSNBC below:

Have a tip we should know? tips@mediaite.com