Lawrence O'Donnell: 'Ignorance Is The First Requirement' For GOP's Love Of 'Socialist' Margaret Thatcher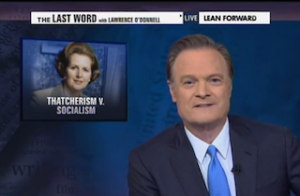 MSNBC's Lawrence O'Donnell delivered an unexpectedly laudatory eulogy for Margaret Thatcher on The Last Word Monday night, but it was not one that many of her Republican admirers would appreciate. While conservative columnist George Will credited Thatcher for helping to "bury socialism as a doctrine of governance" in his tribute to the former British prime minister in The Washington Post, O'Donnell praised her for upholding the "good socialism" that still exists in Britain.
"What do you call a person who gets rid of bad socialism and keeps good socialism?" O'Donnell asked. "I call that person a good socialist, like Margaret Thatcher." He then played a compendium of some of Thatcher's most liberal public pronouncements, mostly having to do with Britain's national health system and Social Security equivalent. As O'Donnell explained, these are essentially "socialist" programs that Thatcher fought to preserve despite her Reaganesque reputation.
And while conservatives praise Thatcher for being a "tax cutter," the reality is that she cut the top tax rate from 83% to 60%, hardly a figure that American conservatives, let alone many liberals, could get behind. "British conservatives aren't as conservative as American conservatives," O'Donnell remarked, and they are "more liberal than American liberals." He added that by those standards, President Obama is "half the taxer" and "half the socialist" that Margaret Thatcher was. "But Republicans call Barack Obama a socialist as if it is an epithet, and call Margaret Thatcher a hero."
For good measure, O'Donnell condemned some of Thatcher's more socially conservative views, like her opposition to gay rights. But the overall picture left of the right's "hero" was far more favorable than anything else said about her on MSNBC today. "Ignorance is the first requirement for Republicans' adoration of Margaret Thatcher," O'Donnell concluded. "Margaret Thatcher the socialist is gone. But Margaret Thatcher the socialist was forgotten long before she was gone."
Watch video below, via MSNBC:
—
>> Follow Matt Wilstein (@TheMattWilstein) on Twitter
Have a tip we should know? [email protected]