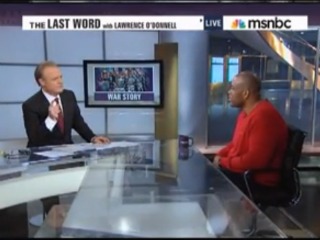 On The Last Word Thursday evening, Lawrence O'Donnell brought on Sgt. Shamar Thomas, the marine who, as you might recall, gave NYPD officers a piece of his mind last week after things grew violent during a OWS demonstration in New York City's Times Square.
RELATED: Marine Confronts NYPD At Occupy Wall Street: 'It Doesn't Make You Tough' To Hurt Unarmed People
O'Donnell spoke with Thomas about his frequent use of the word "honor" throughout his speech to the officers. "That's a Marine word," the host observed.
Sgt. Thomas explained his motivation in confronting the men and women in blue that night, telling O'Donnell that he simply could not fathom returning from a tour in Iraq — an incredibly high-pressure experience dotted with riots and violence — only to find NYPD officers using force on an unarmed crowd. He added that no one in the crowd that night, as far as he noticed, presented any danger to the NYPD officers.
He also expressed hope that viewers participate in the "Occupy" movement.
O'Donnell then shared that he had noticed, in the footage of Thomas at Times Square, that the officers seemed to be genuinely listening to what he had to say and that they had seemed to make the decision that they were not going to use force on Thomas — who is, you know. Something of a tall, large guy. "I think it was a good decision" said Thomas of the police not touching him. "It wouldn't have ended that well, you know. I'm a real United States Marine, you know, to the core."
Have a look at the segment, from MSNBC:
Have a tip we should know? tips@mediaite.com