Lawrence O'Donnell Lauds Shep Smith's Gay Marriage Remarks: Fox News Man On 'Right Side Of History'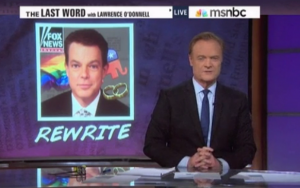 In Wednesday night's "Rewrite," Lawrence O'Donnell took a look at Fox's Shepard Smith's remarks about President Obama's support of gay marriage. Smith is often the "lone voice of reason at Fox News," O'Donnell said — and now it's time to sit back and watch the network "evolve." His advice? Follow Shep's lead.
RELATED: Fox's Shep Smith: Republicans On 'Wrong Side Of History' On Gay Marriage
"Shepard Smith has frequently been the lone voice of reason at Fox News," O'Donnell said — highlighting the Fox anchor's comments earlier today, in which he said the president is now in the 21st century and that Republicans are on the "wrong side of history" on the issue.
O'Donnell then pointed out a Fox Nation headline that read, "Obama Flip Flops, Declares War On Marriage." The headline was later updated to read, "Obama Flips Flops," with no mention of a war. Coincidence? O'Donnell thinks not.
If Fox Nation wants a war on marriage, he said, Fox will give them a war on marriage. Unless…
Smith "said those things about President Obama being on the right side of history," O'Donnell said. "The war on marriage was removed from the headline on the Fox Nation section of the Fox News website after Shepard Smith said that, now there is no war on marriage. Just a flip-flop."
He concluded, "Now it's time to sit back and watch Fox News evolve on same-sex marriage, and all they really need to do to find their way on this one is to follow Shepard Smith, the Fox News man, on the right side of history
Have a look, via MSNBC:

Have a tip we should know? tips@mediaite.com