Lawrence O'Donnell: 'Michelle Obama Was Operating 15 Grades Higher Than Ann Romney Ever Has'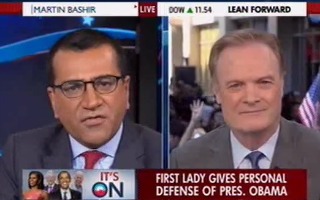 MSNBC host Lawrence O'Donnell appeared with fellow host Martin Bashir on Wednesday where he took some shots at GOP presidential candidate Mitt Romney's wife, Ann Romney, while praising First Lady Michelle Obama's address to the Democratic National Convention.
Bashir outlined for O'Donnell some of what he felt were the better aspects of first lady's Tuesday night convention address, as well as what he believed were the most effective attacks on Mitt Romney. "She literally cut them to pieces, and no one knew she was holding a knife," said Bashir.
O'Donnell agreed, praising Michelle Obama's veiled attacks on the Romney/Ryan ticket and the governing philosophy of the Republican party.
Bashir turned to Ann Romney, playing a clip of her at a campaign rally telling women and telling them that they need to "wake up" and ask themselves which candidate would really "be there for you." Ann said that her husband was that "can-do kind of guy."
"I thought Republicans and this ticket is all about self-reliance, self-sufficiency – unless, of course, you're a woman and then you need a 'can-do kind of guy,'" said Bashir.
"All she ever comes out with is cheerleading stuff," O'Donnell replied. "It's as if she is addressing a kindergarten class. It's the most simplistic stuff you can imagine."
"Michelle Obama was operating 15 grades higher than Ann Romney ever has in any of her public comments, ever," O'Donnell continued. "Ann Romney is absolutely vacant on the matter of governance, of any sort of policy difference. She hasn't said a single sentence to women about government that would in any way be relevant to why they might vote."
O'Donnell went on to praise Michelle Obama's speech for detailing how certain aspects of the Affordable Care Act impacted some women by describing their personal stories and how they benefited from the bill.
Watch the segment below via MSNBC:
> >Follow Noah Rothman (@Noah_C_Rothman) on Twitter
Have a tip we should know? [email protected]