Lawrence O'Donnell: Mitt Romney 'Urged Other Young Men' To 'Die In His Place' In Vietnam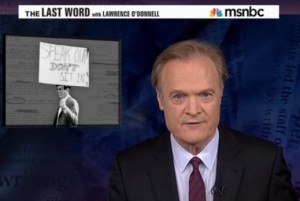 On Thursday night's The Last Word with Lawrence O'Donnell, host Lawrence O'Donnell devoted his "Re-Write" segment to a portion of Mitt Romney's Cincinnati speech devoted to World War II veterans. While the point of the segment was to mock Romney's malformed "torch" metaphor, O'Donnell really worked Romney over in the intro, differentiating him from other "draft dodgers" because "no honorable draft dodger I know urged other young men to submit to the draft in his place. To go to Vietnam in his place. To die in his place. I know of no one other than Mitt Romney whose conscience was so twisted."
The balance of the segment was spent mocking Romney's tortured torch metaphor, a torch that World War II vets can't hold up as high anymore, so we have to seize it, but it's not America's torch, it's the torch of freedom. O'Donnell tries his best to figure out what the frick Mitt is talking about, with little success (I suspect Romney's formless fascination with torches has to do with the Olympics, the other thing he brags about all the time), but knocks every generation of Romney men he can shake a stick at for not serving their country in time of war.
O'Donnell could have saved himself some time on that score if he had paid a little more attention to his intro.
O'Donnell's intro focused on Mitt Romney's Vietnam War "activism," in which he actively demonstrated in favor of the draft, shortly before avoiding that draft by volunteering to knock on doors in France in search of Mormon converts. That mission, Romney said earlier this year, was made "tough" by the presence of American troops in Vietnam.
Lawrence's assessment of Romney, as that rare draft-dodger who actively demonstrated in favor of the war he was trying to avoid, contains the answer to the Romney's history of non-service in the military. "No honorable draft dodger I know," O'Donnell said, "urged other young men to submit to the draft in his place. To go to Vietnam in his place. To die in his place. I know of no one other than Mitt Romney whose conscience was so twisted."
The key words there are "in his place." As I've explained before, there's nothing inconsistent or hypocritical about Mitt Romney wanting to send other people's sons, brothers, fathers, and husbands to be drafted into service, many of them to die. Of course, Romney can support drafting other people's children, husbands, and fathers to die in Vietnam, yet not go himself; that's not what Romneys are for. No one suggests that a cattle rancher should submit himself for milking or slaughter, do they?
Mitt Romney didn't support sending others to die in his place, because fighting and dying for his country was never Romney's place.
Here's the video, from The Last Word:
Follow Tommy Christopher (@TommyXtopher) on Twitter.
Have a tip we should know? tips@mediaite.com