Lawrence O'Donnell Mocks Bill O'Reilly And Dick Morris For Downplaying Fox News Poll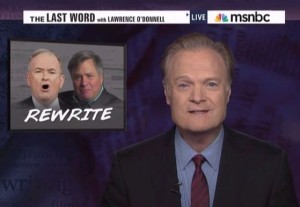 Lawrence O'Donnell had some fun mocking Fox News for playing down the results of its own poll showing President Obama five points ahead of Mitt Romney. He acknowledged that the whole point of political polls is letting the news organizations who conduct them report on their results first, but found that Bill O'Reilly seemed to be brushing aside Fox's poll results.
RELATED: Poll Shows More Americans Would Have Dinner With Obama, Let Him 'Nurse Them Back To Health'
O'Donnell explained to his viewers that the polls are widely considered as important news in the media business, and that news organizations love sharing their own polls so they get to be the ones who break the story. He then played a video of O'Reilly and Dick Morris on Fox News last night reacting to the poll.
O'Reilly asked Morris what he thought about the poll. Morris essentially dismissed it as "understat[ing] the Romney vote" and said pollsters are using "the highest, most pro-Obama turnout model." O'Donnell remarked at exactly how "Fox News' biggest star" handled his own network's poll.
"He brought on a Fox News employee to see that Rupert Murdoch paid for a Fox News poll that was wrong to basically rewrite the poll on the air into yet another indicator that Mitt Romney is going to win. Bill O'Reilly wasn't going to be stupid enough to do that himself, but he knows there will always be a Fox News player ready to go to say whatever the Fox News audience wants to hear, no matter how preposterous it could actually be."
Watch the video below, courtesy of MSNBC:
Have a tip we should know? [email protected]
Josh Feldman - Senior Editor