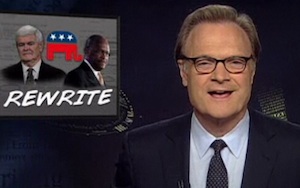 Lawrence O'Donnell scrutinized Republican frontrunner Newt Gingrich's comments that he had never lobbied Congress, finding many contradictions to his claim. "Newt Gingrich is the new Herman Cain," O'Donnell declared. "They were both lobbyists. They have both now enjoyed being front-runners in the Republican presidential campaign and they are both on their way to being losers."
On his program Monday evening, O'Donnell played multiple videos of Gingrich unequivocally denying he had done lobbying.
"I have never done any lobbying," Gingrich claimed during a GOP debate. "Every contract was written during the period when I was out of the office, specifically said I would do no lobbying, and I offered advice. And my advice as a historian, when they walked in and said to me, "We are now making loans to people who have no credit history and have no record of paying back anything, but that's what the government wants us to do," as I said to them at the time, this is a bubble. This is insane. This is impossible."
George Will Dismisses Newt Gingrich, Scoffs At Idea That He Is A 'Historian'
O'Donnell juxtaposed Gingrich's denials with George Will's blunt observation that the former Speaker of the House "embodied almost everything disagreeable about modern Washington," saying:
People think his problem is his colorful personal life. He's going to hope people concentrate on that rather than on, for example, ethanol. Al Gore has recanted ethanol. Not Newt Gingrich who served the ethanol lobby. Industrial policy of the sort that got us Solyndra. Freddie Mac he said hired him as a historian. The Bush Administration was trying to pass a large entitlement in the prescription drug entitlement. Right wing social engineering. He sits down and talks about cap and trade and climate change with Nancy Pelosi and others. The list goes on.
But the coup de grâce in the MSNBC's smackdown of Gingrich came with his citation of a damning Washington Examiner exposé that refuted his notion that he had never lobbied:
Three former Republican congressional staffers told me that Gingrich was calling around Capitol Hill and visiting Republican congressmen in 2003 in an effort to convince conservatives to support a bill expanding Medicare to include prescription-drug subsidies.
(…)
One former House staffer told me of a 2003 meeting hosted by Rep. Jack Kingston where Gingrich spoke. Kingston would regularly host "Theme Team" meetings with a few Republican congressmen and some of their staff. Just before the House vote, Gingrich was the special guest at this meeting, and he brought one message to the members: Pass the drug bill for the good of the Republican Party.
(…)
Two aides to other GOP members who had been resisting the bill told me their bosses were lobbied by Gingrich over the phone, sometimes citing politics, sometimes citing substance. And it worked. "Newt Gingrich moved votes on the prescription-drug bill," one conservative staffer told me. "That's for sure."
Watch O'Donnell scrutinize Gingrich's lobbying denials below via MSNBC:
Have a tip we should know? tips@mediaite.com