Lawrence O'Donnell on 2016's Impact on TV: Politics Has 'Ruined Contemporary Political Drama'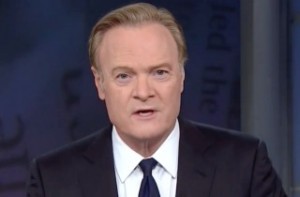 Before he hosted a show on MSNBC, Lawrence O'Donnell was involved in a little show called The West Wing. In the years since that show went off the air, lots of other political shows have become a big part of the zeitgeist (i.e. Veep, House of Cards).
But the 2016 election was such an unpredictable roller coaster full of twists and turns that would have been dismissed by most showrunners as too ridiculous, and that all begs the question of what the state of political TV drama will be like going forward.
Well, O'Donnell spoke to TheWrap about this and said in no uncertain terms, "The politics of 2016 have ruined contemporary political drama."
Now that political reality has shifted in such a big way, he argued, it lessens the stakes writers typically use to create conflict in political drama:
O'Donnell said "the gravitational forces have changed" and "you cannot do drama without having understood stakes. We no longer understand what the stakes are."

"The Last Word" host continued: "If you were to look at the pilot, for example, of 'The West Wing,' the biggest problem is that Josh had said something intemperate on TV about a political faction that you don't want to upset. That's not a drama anymore."
And O'Donnell said a lot of that has to do with Donald Trump himself because "everybody working for Donald Trump says something just palpably untrue everyday and half of them say something crazy everyday."
And when asked if politics shows will have to reevaluate now, O'Donnell admitted there's really nothing they could do now that would be too far out there:
"In a drama writing room right now, about a contemporary presidency, I do not know to say, 'That couldn't happen'… That's not true in any other form of drama. If you're doing a hospital show now, people still die from the same stuff. All the dramatic stakes of a lawyer show, they're the same. Every other show you can think of. The dynamics of reality are all the same. This is the one area where, sorry, no one can say to you, 'That's impossible.'"
[image via screengrab]
— —
Follow Josh Feldman on Twitter: @feldmaniac
Have a tip we should know? tips@mediaite.com
Josh Feldman - Senior Editor