Lawrence O'Donnell On Zimmerman 911 Tape: 'I Believe What We Have Here Is Evidence Of A Police Cover-Up'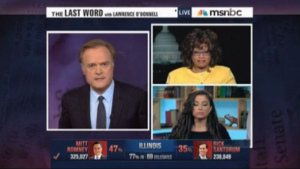 On Tuesday, MSNBC host Lawrence O'Donnell invited Florida Congresswoman Corrine Brown and Martin family lawyer Jasmine Rand onto his program in order to discuss the Trayvon Martin case, particularly the 911 call placed by George Zimmerman shortly before he allegedly shot the unarmed teenager.
O'Donnell played a clip from the call twice so that viewers could decide for themselves whether they — as O'Donnell did — heard Zimmerman mutter the words "fucking coon(s)" while speaking to the 911 dispatcher. If this is indeed what Zimmerman had said, O'Donnell went on to argue, then this would render Martin's shooting, a racially-motivated hate crime.
While Rand agreed that she's heard the same phrase O'Donnell had and characterized Zimmerman's attack as having been racially-motivated, Brown focused on the fact that Zimmerman had clearly ignored the dispatcher's instruction not to pursue Martin.
RELATED: Did George Zimmerman Complain About 'F*cking C**ns' In 911 Call Before Killing Trayvon Martin?
Is this call, O'Donnell later wondered, the result of a police cover-up? Earlier on in the program, he'd noted that authorities had failed to speak to at least a couple of witnesses, including Martin's girlfriend — who had been on the phone with him before and during part of the attack — and a teen witness who had witnessed a portion of Martin and Zimmerman's altercation.
"I've studied police cover-ups in the past and written about them," O'Donnell said, "and when I heard that tape today and when I interpreted it the way attorney Rand interpreted it, I believe that what we have here is evidence of a police cover-up. This is not conclusive legal proof of a police cover-up, but this is evidence that the police, that local police department, never wanted anyone to hear those two words. And that's why we haven't heard those two words until today."
Watch, via MSNBC:
Have a tip we should know? tips@mediaite.com