Lawrence O'Donnell Panel Challenge 'Distressing' Racial Undertones Of Herman Cain Interview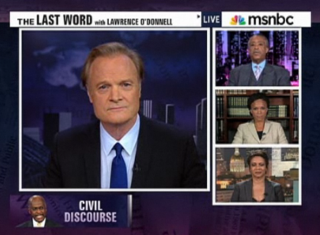 Lawrence O'Donnell has taken a fair amount of heat for his interview with Herman Cain this week, where the host questioned both Cain's involvement (or lack thereof) in the Civil Rights Movement and the Vietnam War. Last night, O'Donnell faced a panel made of MSNBC staples Al Sharpton and Melissa Harris Perry and The Grio's Goldie Taylor who had a word or two to say about his performance, the strongest coming from Harris Perry, who questioned why white politicians alive at the time did not get "litmus test" questions on their positions on race at the time.
O'Donnell replayed key parts of his interview along with comments Cain made at the Values Voter Summit yesterday accusing O'Donnell of veering into absurdity, and promptly gave the floor to Sharpton, who did not consider any of O'Donnell's questions out of line. "I don't see where you instructed him on how to be black or anything else," he noted, but rather, "it is Mr. Cain who has decided to call blacks brainwashed," which opened him up to criticism on his positions on the matter. He also argued that Cain attacking the Occupy Wall Street protests made his role in the Civil Rights movement fair game: "How can you call people unamerican for assembling and protesting now and not have considered those same tactics unamerican then?"
RELATED: Herman Cain And Lawrence O'Donnell Duke It Out On The Last Word
Harris Perry was far less comfortable with O'Donnell's interview, though she did not say anything negative about O'Donnell's performance but, rather, how his questions reflected the place black politicians have in American society. She told O'Donnell the interview had her "squirming with discomfort" because of the potential "implication that those that did not participate were necessarily cowards," warning that "we have to be so careful when we are not facing that imminent violence ourselves." She noted it was only a minority that participated in protests and, furthermore, this was a non-issue for white politicians. "I can't remember anyone ever asking a white politician who is of the same age where they were during the sit-ins," she noted, adding that it "worried" her when white politicians did not face the same challenges to their patriotism.
RELATED: Lawrence O'Donnell's Racially Charged Attacks A Political Gift To Herman Cain
On his end, O'Donnell justified his questions arguing that it was worth putting the questions on the table: "we can go into those conversations without presuming there is a right or wrong answer." Taylor jumped in to add that had Cain not been "righteously indignant at the questions" but had explained himself in a more appropriate way, or fessed up to simply not participating without being angered by the question, he would have found his response more adequate. Sharpton also added that he felt the questions were appropriate precisely because Cain's "brainwashed" comment had "totally discarded the fact that it was based on public policy" and the role of Democratic Party had in passing civil rights legislation.
The segment via MSNBC below:

Have a tip we should know? tips@mediaite.com