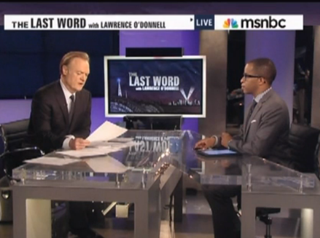 The gruesome fate of Florida teen Trayvon Martin went mostly under the radar since his killing in late February but led the news cycle today. On tonight's The Last Word, Lawrence O'Donnell spend a great deal of his program on the case, and in a discussion with Jonathan Capehart and Mark Thompson the two explained how they grew up with the fear that what happened to Martin could happen to them at any moment, without warning.

RELATED: Al Sharpton Interviews Trayvon Martin's Father In Emotionally Gripping Segment
Capehart explained that his mother gave him a "list of don'ts" growing up that included things like "don't run in public lest someone thinks you stole something" and "your life is in your hands if you talk back to police." That is the sort of fear that, because of events like the one that took Martin's life, many black people live with, he explained.
Thompson noted that, in many instances of violence like this one, there was some innocent action by the victim that prompted it. "Emmett Till was accused of violating one of the racist social mores, but what did Trayvon do?" Thompson added that many of the details of the case hit to home, particularly for black parents who recognize Martin's football photo, recognize their children's face in his. And aside from Martin's innocence, Capehart singled out the incredible irresponsibility on the shooter's part after being told by police to stop following the boy. "No citizen should refuse an order like that," he argued, "especially if that citizen has a gun."
The segment via MSNBC below:

Have a tip we should know? tips@mediaite.com