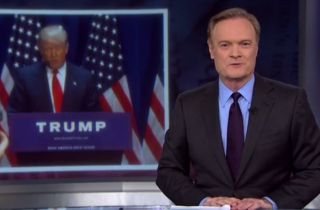 MSNBC host Lawrence O'Donnell regrets having publicly questioned the amount of money NBC paid Donald Trump for starring in The Apprentice reality series.
The Last Word host made the contrite reversal one day after sparring with colleague Joe Scarborough on-air over Trump's reported salary — a fight which bizarrely spilled over onto Twitter and continued throughout the rest of Morning Joe on Thursday.

Of course, Trump responded — not with insults, but with a bet for one year of O'Donnell's salary that the Republican presidential candidate told the truth about his enormous paycheck.
In the intervening hours between Joe and Thursday evening's Last Word, however, O'Donnell had a drastic change of heart. He used his show's monologue to explain:
Now for a few words about Donald Trump. I like him. […] When I met Donald Trump just three months ago, Donald was making his grand entrance in the ballroom of the White House Correspondents' Dinner and I was sitting alone at a table minding my own business. He spotted me, called my name. And watch what he did. He stretches out his hand for a handshake. That — he does that to a guy who savaged him four years ago when he was talking about running for president.

[…] Donald is now bothered by my disbelief that I've expressed about how much money NBC paid him as the star of The Apprentice series. And today Donald came up with a better idea than threatening to sue me this time. He challenged me to bet 100 percent of my salary that I am wrong about his NBC income. Now where I come from, no one settled their disagreements with bets because none of us had any money to bet.

So, no, Donald, there won't be any bet because I would never bet about anything. […] And, I might be wrong. I have never said I know exactly how much Donald Trump made for the entire series. I don't know. I've made semi-educated guesses about it and I don't really care very much about it. […] I stupidly jumped into talking about it again on Morning Joe today where I, in effect, hijacked a few minutes of the show to talk about this thing that I know doesn't matter.

[…] I don't want the prize for the guy who uses the meanest words in the debate. I don't want to be the angry guy about Donald Trump. Because I'm not. I had been eating up time that should have been devoted to Joe and Mika's interview with April Ryan, who had just joined the panel to discuss her very important question to President Obama yesterday in the press conference about Bill Cosby.

Now, I am really sorry that I wasted the time that should have been focused on what April Ryan had to say.
Watch below, via MSNBC:
Such repentance made things difficult for Donald Trump himself, who called into Morning Joe on Friday with a slew of insults prepared for O'Donnell. When shown the primetime host's latest remarks, however, Trump said: "Well, I'm very disappointed because I was really all set to go after him this morning. And now I feel guilty if I do that. I feel very, very guilty. A lot of interesting things."
Watch that interview below, via MSNBC:
— —
>> Follow Andrew Kirell (@AndrewKirell) on Twitter
Have a tip we should know? tips@mediaite.com