Lawrence O'Donnell Recently Shared A Flight With Alec Baldwin And Found Him Most Polite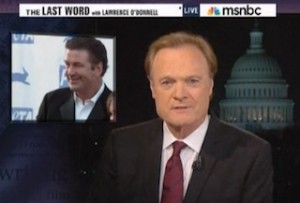 In last night's Last Word, MSNBC host Lawrence O'Donnell acted as a character witness for embattled actor Alec Baldwin, who has found himself in the news after being kicked off an American Airlines flight for allegedly exhibiting "extremely rude" behavior after being asked to stop playing a game on his iPad. O'Donnell made clear to his audience that he didn't know what really happened with Baldwin, but he did claim that he sat next to Baldwin on a flight to Los Angeles the Friday before, and found him to be a delight.
RELATED: American Airlines Says Alec Baldwin Was 'Extremely Rude', Used 'Offensive Language', Slammed 'Lavatory Door'
After revealing that he'd shared the long flight with Baldwin from New York to Los Angeles on Friday, O'Donnell said:
But I can tell you that I have never, never seen a more polite person on an airplane than Alec Baldwin. I don't really know him, I had said hello to him a couple times, here and there, before that flight. That was the first time I ever sat with him in any experience like that. He was polite to a fault. He embarrassed me with his politeness. He certainly was more polite than I was, which, of course is a low bar, as some people already know.
Naked self-effacement aside, O'Donnell deserves some level of credit for going to bat for his travel neighbor in what was most likely a first-class flight across the country. But while some are sure to laud O'Donnell's sharing of this air travel coincidence, it's not fair to compare the way Baldwin chatted up an MSNBC host (and progressive thought leader) and the way the television and movie star reportedly treated the American Airlines flight crew (which he explained in an essay on Huffington Post.)
RELATED: Lawrence O'Donnell: "There's A Way To Avoid Being Hated–I Can Do The F***ing Weather"
Since joining the ranks of MSNBC prime time hosts a year ago, O'Donnell has consistently and vigorously given voice to the plight of working class. His aggressively progressive point of view has been well received by the MSNBC audience, though his detractors point to his custom tailored suits and his $88 Seize sur Vingt socks as evidence that O'Donnell's just a "limousine liberal."
While his character defense of Baldwin was introduced with appropriate caveats that he "was not there," O'Donnell's portrayal of a polite Baldwin, from his experience, also unwittingly portrays the MSNBC host as the perfect villain for the right: a certified member of cultural elite. (Sturm and drang!)
But even if one argues that O'Donnell's experience with Baldwin is relevant to the actor's expulsion from another flight altogether, one can also question if it merited that much real estate on The Last Word. Couldn't that segment have been put to better use in about a million different ways?
Watch the segment below, courtesy of MSNBC:
Have a tip we should know? tips@mediaite.com