Lawrence O'Donnell Reconsiders Ugly Tea Party Protest Following San Diego Election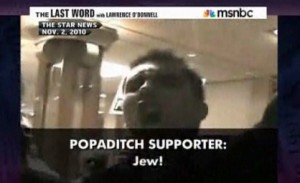 In the days that followed the Arizona shooting tragedy of last week, an ugly game of finger-pointing and tragedy exploitation broke out along predictable partisan lines. Some on the left blamed the violence on overheated and toxic rhetoric from the right, and some on the right used that overreach to do their own exploitation. It was in this frame of reference that Lawrence O'Donnell reconsidered a very ugly protest by self-described Tea Partiers that followed the election of Bob Filner over Nick Popaditch.
O'Donnell opened his segment in the context of the Gabrielle Giffords shooting, saying:
"Bob Filner saw this tragedy coming. During his 2010 re-election bid, Bob Filner of California faced the vitriolic political rhetoric many have blamed for Jared Loughner's actions on Saturday. Here was the scene as he tried to exit golden hall, San Diego's election headquarters just after he defeated the tea party republican. Popovich ranted to his supporters."
What follows an ugly example of overheated and, at times, anti-Semitic vitriol directed at Rep. Filner; footage that gives merit to the charge that there was in fact vitriolic rhetoric that came from some quarters of the Tea Party movement. (Duh!) However, it should not be seen as an indictment of the Tea Party movement overall. Nor should this be conflated as an example of mob rule, as Jeffrey Goldberg did for The Atlantic, writing "It's amazing, in some ways, that Congressman Bob Filner survived this encounter."
No one is going to argue the ugly nature of the protest. And the fact that both Filner and Giffords are Jewish bring relevance and some symmetry to both examples. But to claim amazement that Filner wasn't murdered in this encounter reveals a sad and very cynical take on the current political climate. While the protesters were exercising First Ammendment rights, their words and actions were beyond responsible. But to suggest that its amazing that Filner survived conflates the interaction to irresponsible levels as well.
Watch the clip courtesy of MSNBC below:
Have a tip we should know? tips@mediaite.com