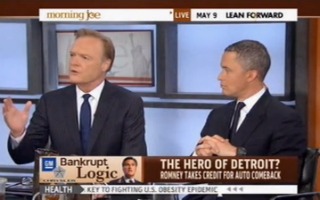 The Morning Joe panel took aim at Mitt Romney Wednesday morning, analyzing not only his assertion this week that he deserves much of the credit for the American auto industry's recovery, but also his failure to address one woman's comment regarding President Barack Obama being guilty of treason. Is Romney merely afraid to stand up to what he views as conservative talking points because he's nervous about being exposed as not quite being a conservative himself?
"I think the big problem," said MSNBC's Lawrence O'Donnell, "is he's really, deeply afraid of you. He's afraid of Republican conservatives because he isn't one, ok? So when one of them stands up in a crowd and says, 'hey, so the President is guilty of treason,' Romney isn't even sure what's on their checklist of stuff they believe so he is afraid of contradicting them, because he thinks 'oh wait, if I contradict a conservative, what does that mean? I better not say anything.'"
RELATED: Mitt Romney Stands Mute As Supporter Says Obama Should Be Tried For Treason
Host Joe Scarborough agreed, adding that Romney almost seems afraid to not be seen going "on the attack" against Obama.
"It's almost as if he thinks the primary is still underway," said panelist Harold Ford, Jr. "Message to him and his team: they won the primary. In the general election, traditionally, you pivot back to the middle. Or pivot to the middle. For those who believe that Mitt Romney is a moderate or has been on different sides of the issues, they are probably confused right now because he remains stuck on the far right side. I hope he remains there. Perhaps that's who he has actually become."
this is the most broad pivot i have ever seen in politics. this is a pivot of a 95-year-old man creaking towards the middle but not being able to make it.
Watch, via MSNBC:
Have a tip we should know? tips@mediaite.com