Lawrence O'Donnell Slams Ben Stein For Comparing Obama To 'Presidential Genius' Of Nixon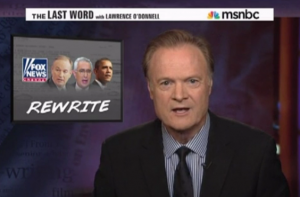 On his show Thursday, an outraged Lawrence O'Donnell took on Ben Stein, who told Bill O'Reilly last night that President Barack Obama isn't a smart man — and doesn't measure up to the "presidential genius" of President Richard Nixon. O'Donnell narrowed in on Nixon's anti-Semitic remarks and war record, questioning why he would be the picture of said "presidential genius."
RELATED: Ben Stein To O'Reilly: Obama Not A Smart Man, Not In 'Same League Of Presidential Genius' As Nixon
O'Reilly was trying to create an image of "fair and balanced," O'Donnell, by bringing on Stein and then disagreeing with him on that point. He then reminded viewers that is Ben Stein looks familiar, it's because of his role in Ferris Bueller's Day Off — not because he's renowned for his economic expertise. Stein, like O'Donnell, majored in economics in college, but, O'Donnell said, that doesn't make them economists. So, how can we trust someone who lies about his occupation on national television?
O'Donnell went on:
Ben and Barack have similar academic credentials. They went to the same college, Columbia. Ben went to Yale Law School, Barack went to Harvard Law School. […] and Barack was not just a member of the Harvard Law Review, he was the president of the Harvard Law Review. Ben, I'm afraid, didn't make the Law Review cut at Yale. So Barack Obama's academic distinction is not just higher than Ben Stein's, it is higher than every president who has been elected in my lifetime.
Then, O'Donnell took aim at Nixon, citing his lying about having a "secret plan to end the war in Vietnam." The guy who took the "single most socialistic action imaginable. He instituted wage and price controls." And, O'Donnell noted, made the following remarks about Jews:
It's not prejudice in the sense that one must recognize that all people have certain traits. The Jews have certain traits, the Irish have certain traits. And the Jews are very aggressive, abrasive, obnoxious personalities — but they're just able people. I didn't notice many Jewish names that aren't coming back from Vietnam.
Stein, who is Jewish, O'Donnell noted, has heard Nixon's anti-Semitic comments. Oh, and then there's that one stain on Nixon's resume: he was "was such a genius he got himself impeached." Even Nixon never claimed to be a genius, O'Donnell said. In the end, he simply said, "Well, I'm not a crook." And, O'Donnell noted, "even that, wasn't true."
Take a look, via MSNBC:

Have a tip we should know? tips@mediaite.com