Lawrence O'Donnell Slams Preacher Who Advised Parents To Give 'Good Punch' To Gay Kids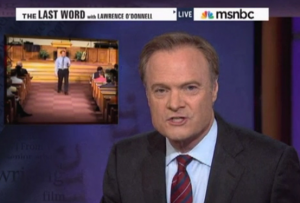 On Wednesday night, Lawrence O'Donnell took on Evangelical preacher Sean Harris who caused a stir with his sermon, which advocated that parents use violence toward their children who may exhibit perceived signs of homosexuality. O'Donnell slammed him not only for the sermon, but for lying in his apology and insisting he didn't intentionally mean to offend anyone.
RELATED: Evangelical Preacher's Advice To Parents Of Gay Kids: 'Give Him A Good Punch'
In the sermon in question, Harris said, "Dads, the second you see your son dropping the limp wrist, you walk over there and crack that wrist. Man up! Give him a good punch! Okay? 'You're not going to act like that. You were made by God to be a male, and you're going to be a male.'"
He also offered advice for how to address daughters who act "butch":
'Oh, no, sweetheart. You can play sports. Play them to the glory of God. But sometimes you are going to act like a girl and walk like a girl and talk like a girl and smell like a girl and that means you are going to be beautiful! You are going to be attractive! You are going to dress up!'
O'Donnell quoted Harris' apology, which included, "I should not have said what I said about cracking and punching and outward bias towards girls, nor should I have used the word 'special dispensation.' I did not say that children should be squashed."
He then played a clip of Harris saying, "Your little son starts to act a little girlish when he's 4 years old and instead of squashing that like a cockroach." O'Donnell asked, isn't that squashing? The apology also said, "I have never suggested children or those in the LGBT lifestyle should be beaten, punched, abused physically or psychologically in any form or fashion." O'Donnell then replayed the clip about "cracking" the "limp wrist."
"What kind of holy man, what kind of man of God lies about what he says in a videotaped sermon when he is apologizing for what he said in that sermon?" O'Donnell asked. Noting Harris saying he was unintentionally offensive, O'Donnell remarked, "What does he sound like when he is intentionally trying to offend someone?"
Going back to the "smell like a girl" comment, O'Donnell further pressed, "Does he know how very, very sick that sounds?"
What what the conclusion of the sermon? "My objective this morning is to so motivate you that you will make it your priority to register a cast a ballot in the next eight days," Harris said in the sermon.
O'Donnell said, "The presidential primary in North Carolina is next week. I wonder who the hateful champion of child abuse wants you to vote for."
Take a look, via MSNBC:

Have a tip we should know? tips@mediaite.com