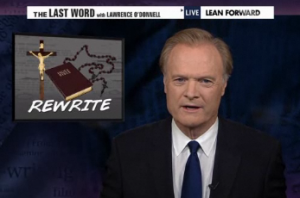 On Tuesday night, Lawrence O'Donnell took on the Vatican. For its official position on masturbation and related condemning of nuns who it supposedly deems too liberal and not preoccupied enough with the "crusade against abortion" and the like. Specifically, Sister Margaret Farley's book Just Love: A Framework for Christian Sexual Ethics.
In addition to gratuitously repeating the word "masturbation," O'Donnell relished in the fact that though the book was published in 2006, it's now a bestseller due to the Catholic Church's condemnation. For background, O'Donnell turned to the history of the Church's office that "spends its time deciding which books to hate." Turns out the office was once called the Supreme Sacred Congregation of the Roman and Universal Inquisition. Inquisition?!
But he digressed. Every sane nun, and sane Catholic and sane human being, O'Donnell said, has no objection to masturbation. O'Donnell noted Farley's "sane" positions on the issues of masturbation and "homosexual acts." He then contrasted this with the Church's official position: that it is "an intrinsically and gravely disordered action."
"The guys in the inquisition office can continue their war on American nuns like Sister Farley, but she and the nuns on a bus [referencing a nuns bus tour] have already won," O'Donnell said, "because the guys in the inquisition office lost the hearts and minds of good Catholics a very, very long time ago."
Moral of the story: "The inquisition guys aren't going to stop the nuns on a bus. And no, they're not going to have much luck stopping masturbation."
Thanks for clearing that up for us, Lawrence. What would we do without you?
Take a look, via MSNBC:

Have a tip we should know? tips@mediaite.com