Lawrence O'Donnell Takes On O'Reilly's Shoutfest With Alan Colmes: O'Reilly Has 'No Idea' What's Going On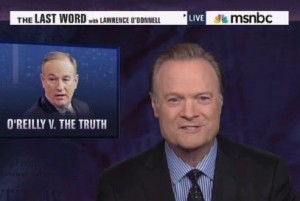 Lawrence O'Donnell opened his show tonight taking on Bill O'Reilly's short fuse and how it was lit tonight during a heated exchange with Alan Colmes. O'Donnell mocked O'Reilly as being far too busy with things like Oscar parties to pay attention to the news, likening O'Reilly to a member of Congress who reportedly had no idea the Obama administration proposed a "chained CPI" program for Medicare and Social Security.
O'Donnell first took on O'Reilly's contention that "cutting Medicare" is too broad a statement to count as President Obama supporting any budget cuts, with guest Jared Bernstein confirming that Medicare is a program and therefore applies under O'Reilly's questioning. O'Donnell quipped that the Irish are known for their anger, saying that no one is quite like O'Reilly on that score.
RELATED: Bill O'Reilly Blows Up In Epic Segment With Alan Colmes, Rages At Him: 'This Is Just Bull-Blank!'
O'Donnell admitted O'Reilly probably doesn't consume any media outside of the Fox "bubble," to which Joy Reid explained that O'Reilly not knowing the facts is part of a wider trend of Republicans not knowing that much about the federal budget and how much is allocated to which programs. O'Donnell pointed out that Obama has expressed a willingness to cut spending, in spite of O'Reilly claiming he has not, saying that the Fox News host has "no idea" what Obama has offered in the way of real cuts.
Bernstein said the reason O'Reilly can get away with making such statements is because of the large amount of misinformation being spread about the budget. O'Donnell mocked O'Reilly for being too busy at Oscar parties to pay attention to the news.
Watch the video below, courtesy of MSNBC:
—–
Follow Josh Feldman on Twitter: @feldmaniac
Have a tip we should know? tips@mediaite.com
Josh Feldman - Senior Editor