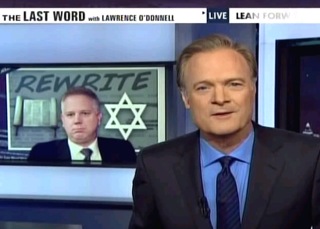 Lawrence O'Donnell wants everyone to know two things about Glenn Beck's apology to the Reform Jewish community today: it wasn't an apology, and it was all his doing. After taking full credit for inspiring the apology (tongue firmly in cheek, of course), O'Donnell proceeded to tear Beck's apology word by word, limb from limb, concluding that an apology to Anti-Defamation League head Abe Foxman is in no way what was demanded of him from those he offended.
O'Donnell employed a tactic long familiar to the MSNBC 8 PM hour– attack an opponent for apologizing about something you called for him to apologize for– but took it a step further by going line by line in Beck's apology. He began with Beck's decision to not "rehash" his statements while he was apologizing, which O'Donnell found distasteful: "By 'I'm not going to rehash it,' what he means, of course, is 'I'm not going to ever say the awful thing that I'm apologizing for, so you're going to hear me use the word apologize but I'm not going to have to repeat that awful thing that I said," which is more of a tautological statement than a damning slam.
O'Donnell picks up speed, however, when Beck claims that, given he is on air for four hours a day, his airtime is a "recipe for disaster" that guarantees he will be wrong at least sometimes. "What you never want to do," O'Donnell warns, "is make excuses for yourself." He then goes on to attack Beck for being on the air four hours a day to begin with. "You really don't want to be telling the American people that working four hours a day is too hard for you," O'Donnell quipped, suggesting that Beck is only at work when he is on the air (in which case, O'Donnell works a grand total of one hour a day). He goes through a short but potent list of people who work more than four hours a day– airline pilots who aren't allowed a single mistake in the air and the union workers in Wisconsin who, he assumes, work for eight.
O'Donnell doesn't stop there: he concludes with an attack on the "sleazy 'if' clause"– Beck apologizes to Foxman "if I offended you"– and demands another, more legitimate apology from Beck. This time, however, it seems unlikely he will get lucky once again.
The segment via MSNBC below:

Have a tip we should know? tips@mediaite.com