Lawrence O'Donnell Unglued: Blasts Salon, Fellow MSNBC Hosts In Tirade Over IRS; Salon Fires Back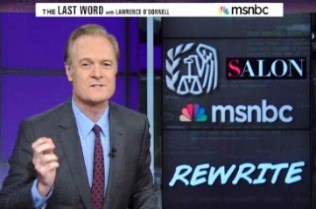 MSNBC host Lawrence O'Donnell revealed in March that his "artistic sensibilities" are continuously offended by the very program he hosts. The former Hollywood actor and producer recently revealed in an interview that he may contemplate leaving the news business for show business. That time may be fast approaching. The MSNBC host's exasperation with his industry has never been more apparent than last night. In a brutal editorial segment, O'Donnell savaged the liberal opinion journal Salon, its reporters, and even his fellow MSNBC colleagues over his assertion that he was not given proper credit for appropriately dismissing the gravity of the scandal surrounding the Internal Revenue Service's targeting of conservative groups.

The feud began after Salon reporter Alex Seitz-Wald took to the pages of the online opinion journal to lambaste the media for, as he asserts, credulously reporting the scandal surrounding the IRS. Seitz-Wald wrote that the entire political media complex essentially over-reacted to that story and provided a variety of media reactions to buttress the assertion.
O'Donnell appeared to take personal offense to Seitz-Wald's accounting. He insisted that his program was conspicuously left out of Seitz-Wald's report and added that nefarious motives were behind the omission.







Seitz-Wald graciously noted that the omission was not intentional and added an "update" to the story in question where he wrote that O'Donnell's program was the "exception" which proved the rule of the media's overreaction to the IRS story.
Not. Good. Enough.
O'Donnell took to his program on Monday night where he reserved the closing editorial segment exclusively for the berating of Salon and Seitz-Wald in particular:
"Then comes Salon today pretending that it is taking a brave and lonely stance against the Washington media's brief infatuation with the so-called IRS scandal without mentioning that the idea for the piece is unoriginal," O'Donnell said. "The author of this piece, and Salon itself, are indeed Washington media players with Washington media weaknesses."
O'Donnell asserted that Seitz-Wald intentionally ignored MSNBC's prime time players with their large audiences. To make this point, O'Donnell took shots at his colleagues on the network. "More people heard this program getting the IRS fake scandal right every night then heard anyone else on the network getting it not so right," he said.
He says that the "fake" accounting of the media's reaction to the IRS scandal will impart absolutely no information to regular viewers of his program. O'Donnell added that the post should have been taken down entirely or, at least, the headline amended to reflect O'Donnell's criticisms.
Finally, O'Donnell declared that he was not upset – a fact made apparent by his measured reaction. He noted that the Salon post helped him to complete the "chore" of writing the commentary for his program's closing segment.
Salon did not take O'Donnell's blistering critique lying down. Salon reporter Alex Pareene's response to O'Donnell is worth reading in full. If you don't have the time, however, here are a few choice excerpts in which Pareene exhibits so little deference to the omniscient MSNBC host that he may have had a mild aneurysm today when he read it.
"This story, though, really upset famous television star Lawrence O'Donnell, whom you may remember from USA's Monk," Pareene helpfully began.
"O'Donnell went on to insinuate … something. Something a bit conspiratorial, but in a way that likely only makes sense to him. "You know exactly what you left out and why," he said. I guess because of our lengthy and well-documented anti-Lawrence O'Donnell vendetta." The Salon writer observed. "O'Donnell then tried out a classic asshole bullying maneuver, by invoking Seitz-Wald's bosses (the subtext is usually: I'll get you fired!!) before explaining how he would've written the piece."
"I'm going to try to explain this again, Lawrence: The point of the piece was not to showcase the heroes whose need to keep a liberal audience alternately placated or outraged every night led them to get the story 'right.'" Pareene continued. "The story also didn't mention The Nation, or Al Jazeera, or Erick Erickson, or ABC's "Modern Family," because that's not what the story was about."
Alex Seitz-Wald is a hardworking reporter who does not have his own television show. He did not spend six years working for a legendary United States senator (and obviously that also means he has not spent 20 years dining out on the fact that he worked for a legendary United States senator), though he did I think intern at NewsHour.
Pareene concludes by noting, rather effectively, that it is his media outlet that publishes so-called "Washington insiders" like the unloved and exiled Glenn Greenwald whereas MSNBC employs well-connected journalists like Chuck Todd, Joe Scarborough, and Mark Halperin.
"Maybe a millionaire actor/producer with his own prime-time cable news television show should use his platform for something better than attempting to bully a good reporter into massaging his ego," he concludes. "Just a thought."
> >Follow Noah Rothman (@NoahCRothman) on Twitter
Have a tip we should know? tips@mediaite.com