Lawrence O'Donnell Urges ADL's Abe Foxman To 'Crush' The 'Anti-Semitic' National Rifle Association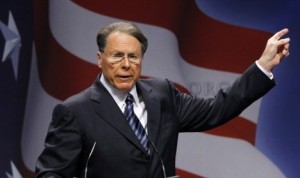 Lawrence O'Donnell, host of MSNBC's The Last Word with Lawrence O'Donnell, devoted his "Rewrite" segment Thursday night to the second part of the National Rifle Association's "enemies list," which features individuals and organizations that the NRA finds inimical to its cause. While the beginning of O'Donnell's commentary focused on the absurd mix of innocuous organizations on the list, including the National Association of Elementary School Principals, his critique narrowed to the NRA's inclusion of Jewish organizations, including the Anti-Defamation League, and ADL National Director Abe Foxman's outrage at Saturday Night Live.
One key notation that O'Donnell made, early in his commentary, was that the NRA kept the National Association of Elementary School Principals on its list even after Sandy Hook Elementary School Principal Dawn Hochsprung was gunned down trying to save her students. "Her body was ripped apart by a mass murderer who was equipped to the hilt with an assault weapon, and high-capacity magazines, thanks entirely to the work of the NRA," O'Donnell said. "And after that happened, no one at the NRA thought 'Hey, maybe, maybe we should take elementary school principals off our enemies list for a while."
After naming a few more quirks of the list, O'Donnell said "It is a goofy list, but it is also a poisonous list, filled with hatred and paranoia, and where there is the paranoia, there is also racism and anti-Semitism."
He named several black organizations, like the NAACP, then noted that "by far, the easiest possible way to get your organization on the NRA's enemy's list is to be a Jewish organization. The Union of American Hebrew Congregations (which has actually been called the Union for Reform Judaism since 2003), the National Council of Jewish Women, the Jewish Labor Committee, Hadassa is on the enemy's list, the Central Conference of American Rabbis, the American Jewish Congress is on the list. The American Jewish Committee is on the list. and yes, the Anti-Defamation League is on the National Rifle Association's enemy's list."
O'Donnell then displayed a photo of NRA executive Wayne LaPierre, and said "This man runs an organization that doesn't just secretly hate the Jewish people who run the Anti-Defamation League, and all the other Jewish organizations I just mentioned. He actually puts them on his organization's enemy's list by name. He keeps a list of the Jewish organizations he hates. And he made that list readily available on his organization's website, and then, then, he was warmly invited by Republicans to testify to the United States Senate."
While praising ADL National Director Abe Foxman, O'Donnell pointed out that his outrage at a Saturday Night Live sketch that never aired could be put to better use. "The Anti-Defamation League, and Jews everywhere should be worried about what they're doing on an enemy's list, and why the authors of the enemy's list have so much power in Congress," O'Donnel said. "Abe Foxman has served his community and the world honorably for almost 50 years at the Anti-Defamation League. He is deservedly well respected by Democrats and Republicans in Washington, far more so than Wayne LaPierre could ever dream of. No one has done more to fight anti-Semitism than Abe Foxman. it has been virtually purged from our life. Most of them know they have to keep their views private, unless they are writing the public enemy's list of the National Rifle association. Abe foxman has the moral authority to crush the people who put him on the National Rifle Association's enemy's list. And America desperately needs him to do that."
To be fair to the NRA, though, their list isn't actually called an "enemies list," it is simply titled "National Organizations With Anti-Gun Policies," and while it does contain the Jewish organizations that O'Donnell listed, nowhere does it say that well-armed NRA members should do anything to them. They're just meticulously keeping track of them, "concentrating" them on a list, so to speak. What's so wrong with that?
Here's the clip, from MSNBC:
Follow Tommy Christopher (@TommyXtopher) on Twitter.
Have a tip we should know? tips@mediaite.com