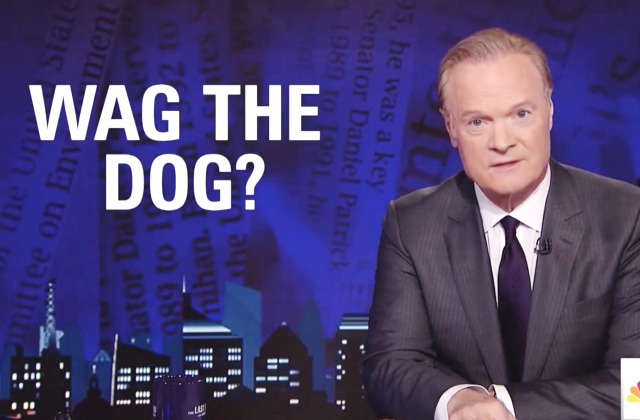 MSNBC host Lawrence O'Donnell has four weeks left on his contract, and the network may not be looking to renew his deal, according to a HuffPost report:
Four well-placed sources tell HuffPost that MSNBC has not been in contact with O'Donnell's team of representatives to negotiate a new deal.
A lack of negotiations this close to the end of a contract often indicates that the contract will not be renewed, as the report notes.
O'Donnell is the host of the highly rated show The Last Word, which follows Rachel Maddow in the primetime lineup — and is second in ratings only to Maddow.
According to HuffPost, "O'Donnell has even been, on some nights, besting Sean Hannity's program on Fox News among viewers ages 18 to 49," a key demographic.
O'Donnell's potential exit from MSNBC would add fuel to rumors that NBC News chairman Andy Lack is looking to move the typically progressive network to the center.
The HuffPost story points out that Lack "is no fan of O'Donnell's program," with some sources saying it's "because he doesn't appreciate the liberal nature of The Last Word, but others say it's about the fact that O'Donnell rejected Lack's request to move his program from 10 p.m. to 6 p.m. Eastern time."
According to sources at MSNBC, Lack also doesn't credit O'Donnell for his shows strong ratings, believing they are the result of having a lead-in from Maddow and heightened interest in a newsworthy presidency.
The chairman would prefer to have Brian Williams, now hosting The 11th Hour at 11 p.m., in O'Donnell's slot.
O'Donnell took to Twitter on Friday to emphasize his strong ratings, perhaps in a nod to Lack:
Last night @maddow was #1 rated show in all of cable tv, not just cable news. @TheLastWord was #2. Thanks for your support. We need it.

— Lawrence O'Donnell (@Lawrence) May 12, 2017
Have a tip we should know? tips@mediaite.com
Aidan McLaughlin - Editor in Chief