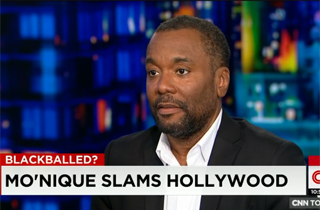 Lee Daniels, director of The Butler and executive producer of the smash Fox hit Empire, defended himself against accusations that he got actress Mo'Nique blackballed from Hollywood after she won a Best Supporting Actress Oscar in one of his films.
Instead, as he told Don Lemon, Daniels had simply asked Mo'Nique to play Hollywood politics during awards season, and she famously refused.
While he praised Mo'Nique's talents — "she's brilliant, and I like working with brilliant people" — Daniels said that she made numerous "demands" during the awards campaign for Precious that damaged her own reputation.
"She was making unreasonable demands, and she wasn't thinking — this was when reverse racism was happening, I think," Daniels told Lemon. "I told her, 'You have to thank the producers of the film, you have to thank the studios.' And I think she didn't understand that, and I said, 'People aren't going to respond well if you don't."
"This is not just 'show'. It's 'show business,'" he emphasized. "And you've gotta play ball, and you can't scream — I don't like calling the race card. I don't believe in it. If I buy into it, it becomes real. If I knew what I knew when I was 21, I wouldn't be where I'm at right now.
"Some people call that 'selling out,'" Lemon noted.
"Well, I guess I'm a sellout," Daniels responded. "But I'm not going to not work, and I'm not going to not tell my truth. And I'm not going to call people out on their bull. So whatever that means, sell out. I'll see you in the theaters."
Watch below via CNN:
[Image via CNN/screenshot]
—
>> Follow Tina Nguyen (@Tina_Nguyen) on Twitter
Have a tip we should know? tips@mediaite.com