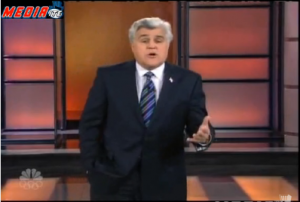 Wow, the early days of this week seem like a Disney movie compared with the ugliness that's broken out in the late-night comedy wars. Before, they were topical jokes blaming one common corporate villain; now, it's everyone taking sides with Conan and Conan taking jabs at Leno, NBC insiders dropping nuggets like "Conan is playing right into our hands because we wanted him out, anyway" and Jeff Zucker supposedly breathing fire and acting like Voldemort. And tonight, as the cherry on top, Leno pushed back with his own pointed digs at Conan.
First, there was the "I'm A Victim Too" Leno staple: "Welcome to the new show, I'm A Celebrity Get Me Off NBC!" This after reports emerged today – unconfirmed – that Leno had re-signed with NBC for the 11:35 – 12:35 hour.
But then came the pushback, and a one-two punch, starting with "Sarah Palin is signed with Fox News to be a correspondent. In a statement today, Fox said if Ms. Palin does a good job they'll sign her to a long-term contract; if she doesn't work out, they'll just blame Leno." Zing! Did you get that? It's Conan's own damn fault that his show didn't work out. Next was Leno's observation that "actually, the Tonight Show with Conan O'Brien's ratings have gone up. They've gone up! So – you're welcome!" Zing again! Let's not forget the reason behind all this: Conan's ratings. And as Leno has been sure to remind again and again, he went out on top.
He probably shouldn't have invited Jimmy Kimmel on the show if he just wanted to leave it there, but oh well. Clip of monologue below.


Related:
Jimmy Kimmel Roasts Jay Leno – On The Jay Leno Show [Mediaite]
Have a tip we should know? tips@mediaite.com