Leno to Chris Matthews: GOP Fighting Obamacare Is 'Like Doing the Super Bowl Over Again'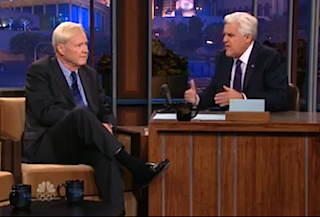 Chris Matthews joined Jay Leno on the Tonight Show last night to plug his new book Tip and the Gipper: When Politics Worked
as discuss the big news of the week. While the MSNBC host did not say much of anything out of character, Leno did appear to reveal what may be his true feelings over the government shutdown and Republicans' obsession with defunding and destroying the Affordable Care Act.
The discussion began with Matthews filling Leno and his audience in on where the country stands after a week and half of government shutdown and the debt ceiling deadline fast approaching. "They kicked it down the road to, guess what, Thanksgiving," Matthews said of the Republican proposal to raise the debt ceiling for six weeks. "Isn't that great? Going to celebrate Thanksgiving with an unending fight." He added of both sides, "They just don't want to talk. They don't want to get together. They seem like they'd rather position themselves as always fighting, than to let the country be a a great country again. That's their problem."
With that, Leno chimed in with his summary of the situation. "This is not a Democrat or Republican solution," Leno said, "But A, all this stuff like Obamacare, passed the House, blah blah, Supreme Court said it's the law. OK. it's like doing the Super Bowl over again." He never got to "B."
Matthews agreed with Leno's assessment as well as the idea that "if there was a vote tomorrow," the government shutdown would be over, something President Obama has been saying almost since it began. He said the only reason House Speaker John Boehner's not willing to hold the vote is "because he's afraid of that 30 or 40 real hard right people that really sort of control his leadership… They really hate Obama. That's the number one goal. They're going after the health care bill with his name on it. It's really sad."
Expanding on Leno's point about Obamacare, Matthews said, "It's all been done. The Supreme Court proved it as constitutional. They had 60 votes in the Senate, a big majority in the House, signed by the president. Everything is totally kosher. And yet they want to go back." He said the Republicans' biggest mistake was trying to kill Obama's baby. "You don't give away your baby, and that's Obama's baby. And I think they should have asked for something else, and they would have gotten it."
Leno's suggestion that it's time for the GOP to move on from the Obamacare issue is striking because of how much time he's spent over the last weeks and months trashing the law in his monologue. In the process, he's become a hero of sorts to right-wing websites that eagerly post video clips every time he says anything negative about President Obama. And on top of that, those same jokes have had Fox News' The Five asking if Leno's "too conservative" for NBC.
But in his conversation with Matthews, Leno put the easy jokes aside and shared what can only be his true opinion: that Republicans lost the Obamacare fight, and to keep insisting that it go away is like asking for a do-over at the Super Bowl. It's possible that the mere presence of a progressive like Chris Matthews just got Leno swept up in the moment, and no one should be surprised if he keeps the anti-Obama jokes going in his monologue. There's no doubt they play well to his mostly older, middle America audience.
But perhaps that's all they are: jokes. Not some revealing truth about Leno's real political leanings. If anything, this interview with Matthews makes a far longer shot that those Fox News rumors could come true when Leno leaves the Tonight Show next year.
Watch video below, via NBC:
[photo via screengrab]
— —
>> Follow Matt Wilstein (@TheMattWilstein) on Twitter
Have a tip we should know? tips@mediaite.com