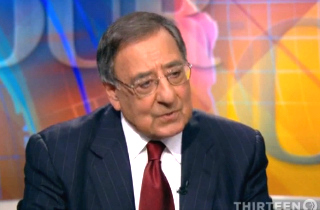 The largest narrative to emerge from former CIA Director Leon Panetta's media tour has been that his criticism of President Obama's handling of ISIS is a sign of internal weakness within the administration. Panetta himself sought to combat that narrative during an interview on Thursday's PBS NewsHour.
Prominent Republicans like Mitt Romney, along with several of the party's U.S. Senate candidates, have latched onto Panetta's criticism as proof that the president is weak.
"Do they have a point?" PBS host Judy Woodruff asked.
"Look, President Obama has been a strong leader," Panetta declared. "He made a very tough decision with regards to the [Osama] bin Laden raid, and it was a risky decision, but he made the right decision. He's made the right decision in terms of helping the economy; he's made the right decision in terms of health care."
The former Obama cabinet member added that while the president provides the "right leadership" for the United States, "that doesn't mean that we shouldn't talk or disagree about certain elements of the leadership." However, he continued, "this president has the ability to establish a strong legacy for the country."
He then took shots at the Republican Party, alleging that "they have a hard time, frankly, coming at the issue of governing this country because they, in the House in particular, are largely responsible for undermining government and its efforts to try to help people."
Watch below, via PBS:
— —
>> Follow Andrew Kirell (@AndrewKirell) on Twitter
Have a tip we should know? tips@mediaite.com