Lesbian Dem Strategist Lays Into Christian Activist On NBC: Procreation Is 'Not The Point Of Marriage'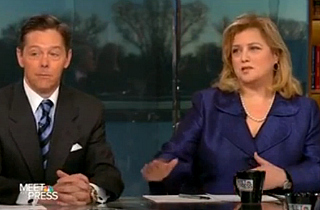 During a Meet the Press debate over same-sex marriage yesterday morning, lesbian Democratic strategist Hilary Rosen tore into evangelical leader Ralph Reed after he suggested that marriage is uniquely and solely a heterosexual commitment for the purpose of procreation.
When asked why he opposes same-sex marriage and hopes the Supreme Court upholds the Defense of Marriage Act, Reed explained: "The issue before the country is: Do we have a compelling interest in strengthening and supporting the durable, enduring, and uniquely complementary and procreative union of a man and a woman?"
He later added: "By the way, the reason why is it's better for children, and all the social science shows that."
Moderator David Gregory interjected that, on the contrary, the American Academy of Pediatrics stated last week that regardless of the parents' sexual orientation, "Marriage strengthens families and benefits child development." Reed remained unconvinced.
When Rosen got her turn to speak, she tore into Reed's point about marriage and procreation:
"Ralph raises a point that we cannot ignore, which is the rationale that the opposition is putting before the Supreme Court. The only difference between a gay couple and a married straight couple that gets benefits from the federal government is that one has accidental procreation. I think that would be a surprise to a lot of infertile heterosexual couples."
"Well, that's not really a fair characterization," Reed replied.
"Of course it is! That's the point you just made," Rosen fired back, "which is the point of marriage is procreation. That's not the point of marriage. The point of marriage is love and commitment."
"What I said is the verdict of social science is overwhelming and irrefutable," Reed explained before disputing the science that has repeatedly said same-sex parents are equally capable of providing a loving, nurturing household.
Watch the exchange below, via NBC:
[h/t Raw Story]
— —
>> Follow Andrew Kirell (@AndrewKirell) on Twitter
Have a tip we should know? [email protected]