'Let Me Finish!' Don Lemon's Interview with Rapper Talib Kweli Descends into Chaos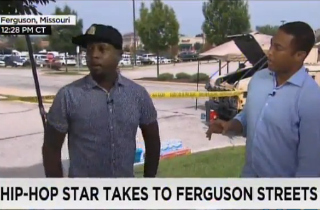 The past 24 hours have apparently been ripe for cable news shoutfests. The latest example being CNN's Don Lemon getting into a tussle with rapper Talib Kweli over media coverage of the ongoing protests in Ferguson, Mo.
You'll have to watch the full video to really get a sense of what happened, but let's just put it this way: Kweli accused CNN of covering the protesters inaccurately, Lemon tried to fight back but Kweli did not like being interrupted and threatened to walk off-set a few times. The pair also spent several minutes arguing with each other over who approached whom in booking the rapper, with Kweli suggesting Lemon didn't even respect him enough to know how to pronounce his last name.
At the start of the interview, Kweli said he'd come to Ferguson to help because he "felt it was important to control the narrative because the media has been doing a horrible job of making sure that the stories get out in the right way."
Lemon disagreed, noting that "people in the community are actually coming up commending us on our coverage, saying that it's balanced." But Kweli pointed to an article on CNN's website that characterized the protests as "calm until the bottles fly," telling Lemon, "That's not what happened."
Kweli attempted to explain how the article is inaccurate, but Lemon interrupted several more times, prompting the rapper to get frustrated and turn his back on the host.
The pair also got a bit personal when Kweli noted that Lemon "didn't even have the decency to greet" him before the segment, instead sending a producer named "Nicole" to invite him onto the show. "You didn't say nothing to me. You were on your phone the whole time. You asked how to pronounce my name," Kweli said.
Somehow, magically, the tension eased up and the pair ended the interview with a handshake and a confirmation they were on good terms.
Watch the whole thing below, via CNN:
— —
>> Follow Andrew Kirell (@AndrewKirell) on Twitter
Have a tip we should know? tips@mediaite.com