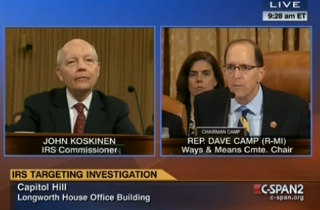 Friday morning's House Ways and Means Committee hearing quickly became tense when Chairman Dave Camp (R-MI) and IRS commissioner John Koskinen got into a heated exchange over the agency's alleged loss of two years worth of emails involving former official Lois Lerner.
At the close of Koskinen's prepared remarks, Camp immediately went for the gut in thanking the commissioner: "What I didn't hear him from that was an apology to this committee."
"I don't think an apology is owed," Koskinen replied. And we're off. "There's not a single e-mail has been lost since the start of this investigation."
The back-and-forth remained at a near-boil for the next several minutes, with Camp accusing the commissioner of deliberately keeping the lost emails a secret. Despite knowing about the email loss in February, the IRS had not informed Congress until last Friday.
"It was my decision that we complete the investigation so we could fully advise you with what the situation was," Koskined explained of the delay. "We were not keeping it a secret. My position has been that when we provide information, we should provide it completely."
Camp was not satisfied with that answer, suggesting instead the appointment of a new official to investigate the email situation. He attempted to get a "simple 'yes' or 'no' answer" on whether the commissioner to answer whether he'd support such counsel.
After repeated pressing, the commissioner said: "The appointment of a special prosecutor after the six investigations ongoing and the [Inspector General] investigation into this matter ongoing, would be a monumental waste of taxpayer funds."
"So is that a yes or a no?" a frustrated Camp asked.
"That's a no."
And so it ended.
Watch below, via C-SPAN2:
— —
>> Follow Andrew Kirell (@AndrewKirell) on Twitter
Have a tip we should know? tips@mediaite.com