'Let Me Finish What I'm Saying': Greta Confronts Cruz Over Past Immigration Position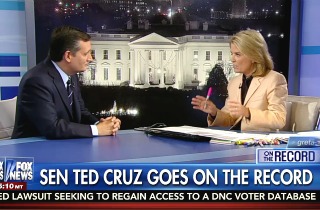 After this week's GOP debate, there was a renewed focus in the media over Ted Cruz's past immigration positions. Back in 2013, he attempted to introduce an amendment into immigration reform legalization that would take the citizenship issue off the table. Some of Cruz's statements back then suggest he may have been fine with legalization, but Cruz is now saying he never supported legalization, the reform bill pushed by Marco Rubio would have done so anyway, and he introduced that amendment as a "poison pill" to kill the bill.
A Washington Post fact-check of Cruz concluded that while Cruz has been inconsistent, "we have no way of knowing whether he really was using a tactic then, or if he is using a tactic now — or both."
Greta Van Susteren confronted Cruz tonight about supporting legalization in the past, which Cruz deemed "factually incorrect." She brought up a letter co-signed by him and other Republicans saying specifically the amendment would have allowed immigrants to obtain legal status.
Cruz insisted that was not the case, and they kept going back and forth as Van Susteren repeatedly tried to press Cruz on why, then, the letter says so. She asked if this was really a poison pill, how come that was never brought up in the days, weeks, and months that followed?
Cruz touted the backing of individuals like fellow senator Jeff Sessions, and noted how Democrat Chuck Schumer had admitted it was a poison pill. He got a little flustered as he decried the Washington establishment trying to target a conservative doing well in the polls.
Van Susteren dismissed that and kept pushing him to clarify and be specific. Cruz very adamantly said he would never support legalization.
Watch the complete exchange above, via Fox News.
[image via screengrab]
— —
Follow Josh Feldman on Twitter: @feldmaniac
Have a tip we should know? tips@mediaite.com
Josh Feldman - Senior Editor