Let Stephen Colbert's Nerd Prom Speech Remind You What Kind Of President George W. Bush Really Was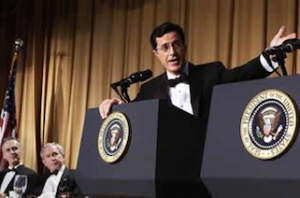 It is somehow fitting that our week of all George W. Bush, all the time is ending with the 2013 White House Correspondents Dinner. Because, while he spent the whole week basking in the glow of polite revisionist history, it was seven years ago on the dais of that event that Stephen Colbert delivered the definitive dismantling of our 43rd president, while he was sitting just a few feet away.
Of course, the reason W. came out of his monastic painting-centric hiding this week was the dedication of his brand new presidential museum and library in Dallas, Texas. He began the week by sitting down (or strolling around) for softball interviews with his former press secretary Dana Perino, CNN's John King and others. Once the big dedication day came on Thursday, he received unexpected laudatory praise for his AIDS initiatives in Africa from former President Jimmy Carter. And the other three living presidents, one of whom is his father, didn't have anything to critical to say about W. either.
All around, it was a festival of, "Hey, maybe this guy wasn't so bad after all" and "Why was everyone so mad at him, again?" There was a few naysayers like Jon Stewart and Rachel Maddow who dared to question W.'s shiny legacy, but they were quickly put in their place by the good people of Fox News.
All of this excessive fawning could make liberals yearn for that glorious night in 2006 when Stephen Colbert stood up in front of President George W. Bush, Washington's power players and the world and delivered one of the most genius comedy monologues ever. What was notable then and is still striking now is how few laughs he got from the audience in the room. This year's host Conan O'Brien has gone on record as saying he doesn't want to make President Obama too "uncomfortable." By contrast, Colbert's main goal appeared to be to make President Bush and everyone else in the room as uncomfortable as possible, by saying things about the president, in front of the president in a way no one had ever done before.
Just six months into his new Daily Show spin-off The Colbert Report, the relatively unknown Colbert used his right-wing blowhard character to make sarcastic, satirical jokes about Bush in way that no other comedian can. From the beginning, when he said "what an honor" it was to be at the "same table with my hero" everyone, including Bush, could probably tell he wasn't being sincere. During this year's dinner, it would not be surprising to hear O'Brien say something very similar about Obama and mean it entirely.
During his speech, Colbert laid out a blueprint of everything that would eventually make his Comedy Central show revolutionary, but because his brand of humor was so new, the audience didn't seem to know how to react. He talked about how he and Bush weren't so different because they both made decisions "from the gut." He told Bush not to worry about his 32% approval rating because "reality has a well-known liberal bias." He said he stands by Bush, because Bush "stands on things. Things like aircraft carriers and rubble and recently flooded city squares. And that sends a strong message, that no matter what happens to America, she will always rebound with the most powerfully staged photo-ops in the world."
Speaking for nearly 25 minutes, including a pre-taped bit from the White House Press Room featuring a hilarious cameo from veteran reporter Helen Thomas, Colbert was far from the most successful Correspondents Dinner host from the vantage point of those inside the event. But for fans like me, watching from my dorm room as soon as someone had excitedly uploaded it to YouTube (I didn't have a TV and this may have before the live streaming era) it was a revelation. According to The New York Times, clips of Colbert's speech were viewed more than 2.7 million times in less than 48 hours before C-SPAN demanded they be taken down, making them the most popular videos for that period on the nascent online video site.
So, what made Colbert's speech so special? Jon Stewart, SNL and the rest of the late night comedians had been making fun of W. for years. But it had never been this cutting. And most importantly it had never been to his face. Before this speech, nobody had summed up everything that made President Bush such an absurd character. Stephen Colbert has done some incredibly ambitious comedy over the last seven years, from his unsuccessful run for the presidency in 2008 to the creation of Colbert Super PAC in 2012. But it's hard to imagine that anything he does will top this.
Before you watch Conan O'Brien roast Obama tonight, revisit Stephen Colbert's full White House Correspondents Dinner speech in all its glory below, via C-SPAN:
—
>> Follow Matt Wilstein (@TheMattWilstein) on Twitter
Have a tip we should know? tips@mediaite.com