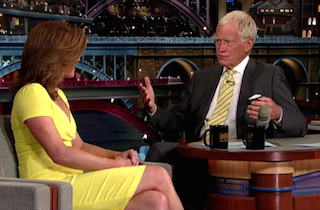 The fact that Russian President Vladimir Putin could have had a hand in bringing down Malaysia Airlines Flight 17 over Ukraine and could escape any major consequences is seriously bothering David Letterman. Last night, during a discussion about the incident with CBS This Morning host Norah O'Donnell, the Late Show host proposed a solution for how the U.S. should handle Putin: Send in SEAL Team Six.
The "stern warning" and sanctions that O'Donnell said the U.S. has delivered to Russia in the aftermath of the crash did not seem to be enough for Letterman, who was visibly frustrated and wanted more action. But then, playing devil's advocate, he also brought up the Iranian passenger jet that the U.S. admitted to shooting down in 1988, but for which the country never apologized.
"As outraged as we are, we ourselves are guilty of the same horrific nonsense," Letterman said, asking O'Donnell how that scenario was any different.
"I think it's a good question," O'Donnell said, after a lengthy pause, not exactly offering up specific differences. Letterman just shook his head as O'Donnell said the U.S. reaching a "turning point" in its relationship with Russia.
"We've just not come through 12 years of war that the United States has been committed to," Letterman said. "This smells like war, but we're not going to have another war. This is a job for SEAL Team Six. Call them and kill the guy."
While his audience eagerly applauded that sentiment, a slightly horrified-looking O'Donnell said, "You're not advocating violence."
"He's a psychopath!" Letterman exclaimed. "He doesn't care, he just couldn't care less. A sanction? What does he care?"
Watch video below, via CBS:
[Photo via screengrab]
— —
>> Follow Matt Wilstein (@TheMattWilstein) on Twitter
Have a tip we should know? tips@mediaite.com