Letterman Confronts O'Reilly: 'Why Doesn't The Current President Get More Credit?'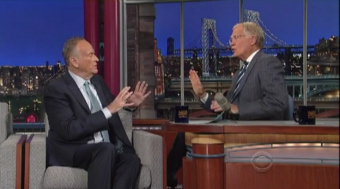 During Wednesday evening's edition of CBS' Late Night with David Letterman, Fox News' Bill O'Reilly sat down for an interview that touched upon Dick Cheney, the 2012 election, and — like last week's Letterman interview with Brian Williams — whether the president will receive more credit for his accomplishments.
Letterman began the segment by pressing O'Reilly for his thoughts on former Vice President Cheney and the Iraq War. Letterman explained that he doesn't like Cheney because he thinks the former VP felt that "we're not going to go after Osama bin Laden because he's in Saudi Arabia, and we don't want to rub the royal family wrong because they control our oil."
O'Reilly took issue with this characterization, saying that all the Bush administration's big players wanted to get bin Laden, but the information just wasn't there. In fact, O'Reilly added, "Because of waterboarding, we got the information that led us to bin Laden's driver, who they picked up in Pakistan and led us to the compound. So you might say that Cheney did do something that led to bin Laden's demise because he was behind the waterboarding."
When the topic turned to this year's presidential election, Letterman proposed that "you don't change horses when a guy is fighting to improve the economy." O'Reilly disagreed, saying, "That doesn't work … because people are scared and scared voters usually go against the incumbent."
Letterman replied, "I don't know. I would be scared to turn it over to a new administration." O'Reilly said he wouldn't be scared to do so; he just wants the "best man for the times."
Eventually Letterman rehashed the question he presented to Brian Williams last week: "Why doesn't the current president get more credit for everything he's accomplished?"
O'Reilly conceded that he thinks the president has done a very good job on foreign policy, but "he has botched the economy."
Letterman disagreed with that, calling it "rhetoric," but O'Reilly asserted, "I base my stuff on facts. You know I'm not an ideologue. I don't care about party. I don't care about party at all."
When Letterman ran out of time, he agreed to disagree with O'Reilly and ended the segment with an awkward fist-bump.
Check out the segment below, via CBS:
Have a tip we should know? tips@mediaite.com