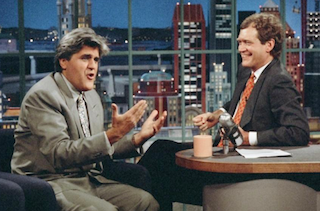 The last time Jay Leno appeared as a guest on David Letterman's late night talk show was May 7, 1992, just two weeks before he premiered as host of the Tonight Show. The last time the one-time late night rivals appeared on screen together was in 2010 Super Bowl commercial that required the presence of Oprah Winfrey a mediator.
Now that he has less than four months to go until his retirement, Letterman has reportedly reached out to Leno to ask him to sit on his couch one last time.
TV Insider's Michael Schneider cites sources within the Late Show that say an invitation has been extended to Leno, through his management, if not to the comedian directly. When the reporter asked Leno about any possible plans to appear on Letterman's show during a television conference last week, he said he hadn't heard anything about the invitation and would be looking into it.
RELATED: Jerry Seinfeld Proves That Leno and Letterman Actually Love Each Other
During an interview with Extra's Mario Lopez last February, as he was preparing to leave the Tonight Show, Leno said he would be open to returning to Letterman's show in the future. "I did Dave's show a million times and I would probably do his show again, sure," he said at the time.
Similarly, he told TV Insider last year that a Letterman appearance was "certainly a possibility," adding, "Some of my best moments were doing the show with Dave."
If Leno does decide to sit down one last time with Letterman, it will likely be one of the most talked-about late night moments of all time, which tells us CBS will probably save it for the very end of Letterman's run.
Watch video below, via Extra:
[h/t Splitsider]
[Photo via screengrab]
— —
>> Follow Matt Wilstein (@TheMattWilstein) on Twitter
Have a tip we should know? tips@mediaite.com