Letterman Still Upset By Romney's Leno Comment, Implores 'Delusional' Mitt To Come On The Show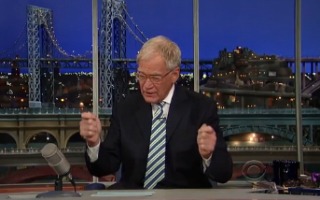 Yesterday, we told you that David Letterman was upset that Mitt Romney had told a group of donors that the late night host "hates" him because he's gone on rival host Jay Leno's program more often. Well, Letterman isn't over it.
RELATED: Letterman Doesn't Hate Romney For Going On Leno's Show More: 'Why Hate A Guy Who's Suffered Through That?'
On Thursday night, he once again extended an invitation to the candidate to appear on his show. But not before letting "Mitch" know exactly what what he thinks of him. "The man is delusional," said Letterman.
"Honest TO gOD, if he thinks I hate him…," he continued. "Let me just draw an analogy. When George W. Bush was president for eight years, we didn't have to write a single joke. Eight years! We loved George W. Bush. Yeah, we cut our writing staff down to one or two people. That's all we needed. We loved him! And I said over and over, George W. Bush, I believe, I still believe it today was our cutest president, cutest president."
"We are not in the hate business," Letterman added. "We are here looking to make friends. Now, Mitt Romney has been on the show many, many times. Let me ask you something, Mitt. If we hated you, why do we keep begging you to be on the show? […] Let me go out on a limb here and say Mitt Romney or his little buddy, the vice president… His little buddy Gilligan. They have an open invitation any time on short notice. You want to be here tomorrow, fine. Come tomorrow. You want to be here Monday, any time, I don't care. Bring in Paul Ryan, bring in Mitt Romney, bring in Mitt and Mrs. Mitt and all the kids, bring in everybody. We don't hate you, Mitt. We don't hate people. And by the way, if this is based on being on the Leno show more than being on our show, does it make any sense that we would hate a man who has gone through that suffering? Would it make any sense? No! So thumbing up then, Mitt up, get ahold of yourself, we don't hate you. Stop telling people we hate you."
"This… by the way," he said, "I'll bet this is the Tonight Show poisoning Mitt saying, 'oh, you know, Letterman hates you.' So that makes mitt afraid to come and be on the show. But he's been on the show, was a wonderful guest. We are imploring you, we are beseeching you, please, Mitt, try and fit us into your itinerary. Thank you very much."
Check it out, via CBS:
Have a tip we should know? [email protected]