Letterman: Disappointed Obama 'Not Telling The Truth' About Romney's Position On Auto Bailout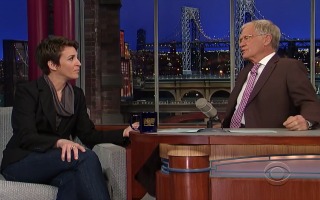 On Tuesday night's Late Show, host David Letterman told MSNBC anchor Rachel Maddow that he was disappointed in President Barack Obama who he felt had misrepresented Gov. Mitt Romney's opposition to the auto bailout. Letterman said that he reread Romney's op-ed in which the former Massachusetts governor outlined how he would rescue the auto industry, and said that Obama had played "fast and loose" with the facts when he related Romney's position.

"Here's what upset me last night; playing fast and loose with facts," Letterman said to Maddow. He went on to rehash what President Obama said during Monday night's debate regarding Romney's position on the auto bailout which he detailed in a 2009 New York Times op-ed entitled "Let Detroit Go Bankrupt".
"Now, I don't care whether you're Republican or Democrat, you want your president to be telling the truth; you want the contender to be lying," Letterman said. "And so what we found out today or soon thereafter that, in fact, the President Obama was not telling the truth about what was excerpted from that op-ed piece. I felt discouraged."
Maddow went on to say that Romney's position on the auto bailout was wrong because it relied on private capital to rescue the automotive industry when there was no private credit available. She conceded, however, that Obama was clearer about his position on the auto bailout in the first debate than on Monday night.
Watch the clip below via CBS:
h/t NewsBusters
> >Follow Noah Rothman (@Noah_C_Rothman) on Twitter
Have a tip we should know? tips@mediaite.com